July 20, 2010 -
Greg Gabriel
A scout's take: NFC rookies to watch
Every year we see players drafted high who fans expect to jump in and play right away. It doesn't always happen, but it isn't always the players' fault.
There has to be an opportunity to play at his given position. By that I mean the position has to be open or it has to be a position of weakness on the team. For rookies, they're not always drafted into that type of situation. There are times when a productive veteran already has the spot and he isn't about to just lie down and give it to the first-year player.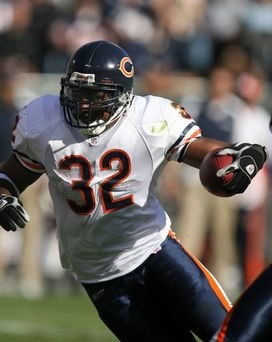 ICONCedric Benson had trouble getting carries in Chicago with Thomas Jones in the fold.
Case in point, in 2005 while I was with Chicago, we drafted Cedric Benson with the fourth pick of the first round. Of course everyone (outside of the Bears) expected Ced to come in and play right away. He didn't, and there were two reasons for this. First, he had a prolonged holdout and didn't sign until right before the final preseason game. Second, we already had a very established and productive vet in Thomas Jones. Jones was not about to give his job to Benson without a fight.
Looking back, it made Jones a better player.
Since drafting Benson, Jones has not run for less than 1,000 yards in any season. In fact, he has run for over 1,200 yards in four of those years.
With that being said, here are some highly drafted NFC rookies that should contribute early given the opportunities they should have with their clubs.
Trent Williams – OT – Washington – Chris Samuels retired, leaving the left tackle position wide open. If Williams doesn't miss much training camp, it should be his position to lose.
Russell Okung – OT – Seattle – Okung is in a very similar situation as Williams. Perennial All-Pro Walter Jones retired, so the left tackle position is there for the taking for Okung.
Ndamukong Suh – DT – Detroit – The interior defensive line was a major weakness for Detroit. It's just about a no-brainer that Suh will step in and play. He should become a dominant player in a short time.
Gerald McCoy – DT – Tampa Bay – Just like Suh in Detroit, McCoy should be a starter from the first day. He can be a dominant 3-technique player similar to Tommie Harris before injuries slowed him down.
Now, here are three first-round picks that, because of the depth at their position, might not get the playing time expected of a first-round selection.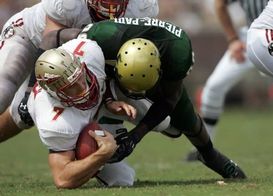 ICONWhile talented, Jason Pierre-Paul may have trouble finding the field initially in New York.
Jason Pierre-Paul – DE – New York Giants – Pierre-Paul has as much natural pass rush talent as any player I have scouted in years, but he is still raw and it is a position of strength with the Giants. In front of him are Justin Tuck, Mathias Kiwanuka and Osi Umenyiora. These are all top-notch NFL defensive ends.
Dez Bryant – WR – Dallas – Bryant has unlimited potential to go along with great size and natural athleticism. But Dallas' receiving corps is strong. Ahead of Bryant are Roy Williams and Miles Austin — two big and talented receivers themselves. It's scary how good this group could become.
Jahvid Best – RB – Detroit – Best is a smaller back but he has great quickness and body control. I see him more as a rotational type with starter Kevin Smith. Best will get his touches and make big plays but he won't be a bell cow.
Ready for fantasy football? Click here to purchase the Total Access Pass/ Draft Guide from the NFP.