July 15, 2010 -
Greg Gabriel
A scout's take
Since this is my first piece for the National Football Post, I want to tell you a little about myself.
I have spent the last 26 years working in the National Football League. I started out with National Scouting as an area scout in 1984 before moving onto a 16-year career with the New York Giants. With the Giants, I was lucky enough to be a part of three Super Bowl teams and worked with some great football people including George Young, Ernie Accorsi, Bill Parcells, Bill Belichick and Dan Reeves. In 2001, I moved onto the Chicago Bears as Director of College Scouting where I was part of three division-championship teams and one conference championship squad in nine seasons.
Because of that experience, I feel that I can give you, the readers, a good inside look at what is happening in the NFL. I have been part of many high-level discussions, so I know what goes on "behind closed doors."
In my posts I will give strong opinions on the everyday happenings in the NFL and also write about some college football and recruiting.
Supplemental draft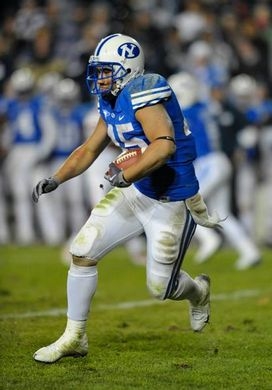 ICONFormer BYU running back Harvey Unga.
To start off, let's talk a little about Thursday's supplemental draft. There will probably only be one player drafted — two at the most. Harvey Unga from BYU is a good NFL prospect. He is a bit of a tweener (by that I mean part running back and part fullback) and does not have great speed, but he was very productive playing for the Cougars. He is a strong inside runner and has good hands. There are some who question his work ethic, and if that's the case it will have a huge effect on him ever reaching his ceiling in the NFL. Look for a team that uses mainly a one-back offense to draft him in the mid rounds.
In my view, the supplemental draft is usually a waste of time. Players are in the supplemental draft because they have issues and cannot play football for their college team this fall. The day you draft one of these guys, you are getting a player who is very behind as far as knowing your offensive or defensive scheme. He has not been part of the offseason program and OTAs, and you really don't know what kind of condition he is in. This really limits his chances of helping your team this year. Plus, because there is an 80-man limit going to camp, you have to cut a player that you have worked with all offseason.
T.O.
Terrell Owens is looking for a job. In fairness to him, he is very talented and keeps himself in great condition. But he has been a distraction for just about every team he has played for. He will be 37 years old before this season ends and the last time I looked there weren't too many 37-year-old receivers playing in the NFL. Look for a team that gets into trouble with injuries either in camp or early in the season to sign him. I doubt you will see him get big money. He may have to settle for just over the veteran minimum.
George Steinbrenner
Mr. Steinbrenner was not an NFL guy but football was one of his first loves. In his younger years he worked as an assistant coach at both Ohio State and Northwestern. He was close with one of the all-time great coaches, Lou Saban.
Even though he was an owner in baseball, the way he did business and attacked free agency had an effect in all pro sports. In my mind he was one of the great owners ever in any sport. He just wanted to win! You can't ask for better ownership than that.
Bobby Johnson
On Wednesday, Bobby Johnson retired as head coach of Vanderbilt University. You never saw Vandy as a top-10 team and a perennial bowl contender, but what you saw was one of the best-run programs in the country. While I was with the Bears, we had five former Vandy players on our squad: Jay Cutler, Chris Williams, Earl Bennett, DJ Moore and Hunter Hillenmeyer. All are fine young men and well prepared to play NFL football. They were well coached and they all had a strong passion for the game. That's a testament to their college head coach. Coach Johnson has visited the Bears training camp in the past to check up on his players and I got know him a little. He is a great human being, and I wish him well in his retirement.
Ready for fantasy football? Click here to purchase the 2010 Total Access Pass/Draft Guide from the NFP.