January 20, 2012 -
Greg Gabriel
A sleeper at the East-West game
I've been going to the practices of the East-West Shrine Game every year since 1986. For years the game and practices were held at Stanford University in Palo Alto, California, and it was probably the biggest All-Star game as far as attendance. Fans would pack the old Stanford Stadium to the likes of 70,000-plus every year. It truly was a spectacle with a huge parade and Shriners from all over the United States supporting the game.
Those days have long since been gone and it's been over 10 years since the game was held at Stanford. It has become rather nomadic, being moved to San Antonio, Houston, Orlando and now St. Petersburg, Florida.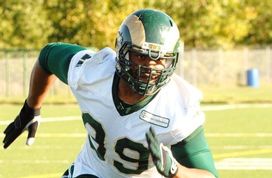 Akiem Hicks may be the most talented Canadian college player since Israel Idonije.
A tradition that hasn't changed is the people who run the East-West game have always invited a few players who played Canadian college football. This year was no different, with three Canadian college players having been invited. One of those three, Akiem Hicks from the University of Regina, has a fairly good chance to play in the NFL. Hicks is the most talented Canadian college player I have seen at the East-West Game since Israel Idonije, the Chicago Bears defensive end who played in the game in the early 2000's.
Who is Akiem Hicks? First off, he is not a Canadian citizen; he is from Elk Grove, California, and attended Sacramento City College and spent a few days at LSU before ending up at the University of Regina. While at Sacramento City College, Hicks was a highly recruited defensive lineman. Rivals.com rated him as a 4-star player coming out of junior college and he was offered by the likes of Tennessee, Arizona, Oregon and LSU. He signed with LSU but got caught up in an NCAA improper benefits scandal and never played there. His next stop was Regina, where he has shown dominating ability.
I was able to get five tapes from the 2011 season as well as watch him in three practices earlier this week. After viewing the practices and tape I can assure you he is a legitimate prospect. He is raw to say the least but he has the natural tools to work with.
Hicks has great natural size, measuring in at 6-4 and 324 with an arm length of 35.5." He shows good athleticism and flashes a burst. He should probably lose about 10 lbs to increase his speed but I would estimate that he runs in the 4.95-5.00 area right now. He has a solid build and if given a chance to work in an NFL offseason conditioning program it's no telling how good this player could look.
As far as technique goes, he is very raw. The best coaching he has ever received was probably this week. When watching tape on him, the competition he faced while at Regina was probably equivalent to a mid-level Division II program in the States. He got by purely on natural skills there and still showed dominating ability. He has a tendency to come off the ball high and expose his body and he lacks good hand use, but he is strong and powerful and uses his natural traits to get by. I charted two of the five games I watched and in the first game he had 2 tackles, a sack, 4 quarterback pressures and 3 hits on the quarterback. In the other tape he had 6 total tackles, 2 sacks, 4 pressures and 2 hits on the QB. He is constantly being double and sometimes triple teamed yet he still shows the ability to make plays.
When I saw Idonije, he was very similar. He was tall with very long arms and a frame to get bigger. He had speed and was athletic but was clueless as to how to play the game. Idonije spent a year on the practice squad and then another year as a special teams player before he was ready to contribute as a defensive lineman. It could be much the same with Hicks. A club is going to have to show time and patience and wait for this kid to develop but in the end it could really pay off. Had Hicks been able to play at LSU there is no telling how good he could be. At this stage of his development he may not be a draft choice but at least he is a priority free agent. You have to look at this player as a big block of clay that is still waiting to be molded into a work of art. If done right, in the end you MAY have a masterpiece!