December 29, 2011 -
Greg Gabriel
A trio of offensive prospects on Boise State
For the last 10 years, Boise State has been an offensive powerhouse in college football. They put up numbers that are second to none. Leading this year's offense are three seniors who are all NFL prospects: quarterback Kellen Moore, running back Doug Martin and receiver Tyler Shoemaker. How are they rated as prospects? Let's take a look.
Kellen Moore
Moore's numbers the last four years at Boise State are among the best in college football history. His won-lost record is an astonishing 50-3, he has passed for over 14,500 yards and his career completion percentage is just under 70 percent. So why isn't he talked about with the likes of Andrew Luck, Matt Barkley and RGIII?
One reason is that he's 5-11 and 195 pounds and runs a 4.95. The only starting quarterback in the league who has similar size to Moore is Drew Brees. That's a great person to be compared to but if we look at history, most quarterbacks that size fail once they get to the NFL.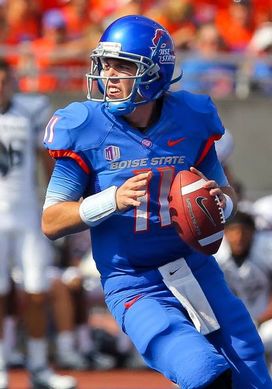 ICONKellen Moore went 50-3 as the starter at Boise State.
Looking at his game, there is a lot to like. He is poised, has excellent vision, can locate secondary receivers, has a very quick release and is accurate. He has a good arm and throws a very catchable ball. He plays mostly from a spread and that is one of the reasons for his success. Playing in the spread allows him to see the field better and watch plays develop. He is very instinctive and is a quick thinker with quick reactions. He seldom makes a poor decision and best of all he is a winner. Though he doesn't time fast, he has quick feet, a good feel for pass rushers, can extend plays with his mobility and good run skills. There are not a lot of quarterbacks who have that great feel of when to step up in the pocket to gain extra time and make an accurate throw. With his athleticism and quick release he shows the ability to make the off balance throw with accuracy. He has the snap in his wrist to be able to make those throws.
Overall, if Moore were 6-2 or taller he would be talked about as a premium round draft pick. He will get drafted, he will make a team and he will be a very good backup in the league. Because of his intangibles, I wouldn't bet against him becoming an eventual starter. When you evaluate quarterbacks you look for the "it" factor…and Kellen Moore has it!
Doug Martin
Like Moore, Martin has been a very productive player while at Boise State. In the last two seasons as Boise's lead back he has run for over 2,500 yards with a better than 5 yards per carry average and caught 56 passes. Part of his production is because of the offense he plays in. The scheme creates plays for him. He is not a real big guy at 5-9 and 215, but he has a thick build and times very fast (4.47). I don't see that speed in his play. He looks more like a 4.55-4.6 type on the field. He is a patient runner who does a good job setting up and following blocks and then shows a burst off the block. He shows quick feet, good balance and the ability to get yards after contact but I do not see explosive power. He is more of a one-cut runner, but he does show some wiggle in the open field. Even though he has had some long runs, I don't see him as a threat to break it on any given carry. He gets what's there but not a lot more. He has average creativity. As a receiver he shows good hands and can gets yards after the catch. He is used mostly on swings, screens and check downs. He is average as a blocker.
Overall, I don't see any special traits, just a good back. I see him as a mid-round pick who will be a good backup but I don't see a potential starter at this time.
Tyler Shoemaker
With Titus Young and Austin Pettis off to the NFL, Shoemaker had a chance to become the number 1 receiver. While he had good production with 62 catches for 994 yards and 16 touchdowns, I didn't see a top NFL prospect. He is not in the same class as Young or Pettis. Shoemaker has size (6-1 and 212) with good timed speed (4.49), but I don't see that timed speed on the field. He plays more like a 4.55-4.6 type. He is not real fluid and plays a bit upright and has some tightness in his hips. He plays a lot in the slot but is split at times. He is best with one cut patterns. He can lose some of his speed with multi-cut routes. When running routes he shows just average ability to separate from defenders out of cuts. He has good hands and average ability to adjust to the ball. As a runner he uses his size and strength to his advantage but is not real elusive.
Overall, because of his measurables, Shoemaker will probably get drafted but I don't see him as a sure shot to make an NFL roster. This is his first year as a regular receiver and he is still a bit raw. He could use a year on a practice squad to further develop his skills.