February 23, 2011 -
Greg Gabriel
A typical trip to the Combine
If anyone thought going to the Combine was fun for the 350 or so prospects, think again. They are four very grueling days for each prospect starting from just about they moment they arrive in Indianapolis.
Day 1
When each player arrives the first thing he does is register and find out what group he is in. Everything at the Combine is done in groups starting with the offensive linemen. There are usually two groups per position. Today, the offensive linemen come in and the first of two groups of running backs. Tomorrow, it will be the second group of running backs followed by the receivers. After registration, it's off to the hospital for pre-medical testing. Here, some X-Rays may be taken along with other tests. If a player has some known medical history the X-Rays are done just to save some time. After they get back from the hospital they go to a room for Cybex testing, which measures leg strength. Years ago they used to do this test a day before each player ran his 40. Now it's done on arrival day because the test can tire a player's quad muscles so much. To make it simple the motion used in the test is similar to a leg extension but it is done rapidly until muscle fatigue sets in. For those of you who know what muscle burn is, this test can be the ultimate "burn." By doing it on arrival day, the player has almost three days rest before he runs his 40.
After the Cybex it's dinner time, which is also an orientation meeting telling the players what to expect while at the Combine. When the players are done with dinner they start the interview process. Clubs request up to 60 players to interview while at the Combine. These interviews last no more than 15 minutes and they are strictly timed with a horn going off every 15 minutes, meaning the end of the current interview and then off to the next team. Each club has an interview room on the first floor of player's hotel, so the walk between interviews is no more than a few seconds. There are some players who can have as many as 20-25 interviews and that can be a very mentally exhausting experience. Some players may have scheduled interviews every night they are in Indy.
In a building adjacent to the players hotel there is another huge "interview hall." When players are not at specific places for medicals, testing or formal interviews they are in this building where coaches or scouts can do less formal interviews.
Day 2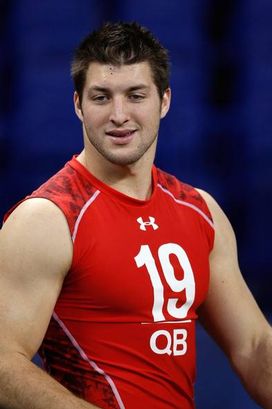 Tim Tebow participated in last year's Combine.
The players are up early for a day of medical testing. But before that, they are brought into a huge "ball room" where they stand on a stage in front of hundreds of scouts and coaches and their height, weight, arm length and hand span are taken. It is here where scouts see "body types."
After the weight and measure period the players begin their medicals which are very comprehensive physical exams. It's testing from A to Z and nothing is left out. Three groups of players have their medicals done each day, with over 100 players a day and it takes hours. The team doctors may ask for certain tests on players and it is here that more MRI's and X-Rays are taken. I have seen in some years one player have as many as four MRI's done. That night the players have scheduled interviews.
Day 3
More testing but this time it isn't medical testing — it's intelligence and psychological testing. After breakfast the players take the Wonderlic Test, which is a 12-minute test that measures intelligence. When they are done with the Wonderlic they go to the "Interview Hall" for psychological testing. There is not one set test that the players take. Clubs hire different services to do this testing so players may take as many as four or five different tests before they are done with the psychological testing. The most famous psychological test done at the Combine was the "CPI' test that used to be administered by the New York Giants. The Giants haven't used this test in years and I think the players celebrated when they stopped. This test was unusually long — over 500 questions and it would take the average player about 90 minutes to do the test. I will say that it was an accurate indicator. I know…I took it!
When the psychological testing is done the players go back to the Dome for bench press testing. I always liked watching this because you can see the competitiveness of the players as they try to do better than the other guys in their group.
In past years, the players also met with the Players Association on Day 3 for a 60-minute meeting. Because of the NFL labor situation, I'm not sure if that meeting will be taking place this year but I assume it is.
After the players have dinner they are off to more interviews. Each night the interviews go until 11:00 p.m.
Day 4
Finally the players get to work out! Most of you have seen this on the NFL Network. The players start off by running their 40 followed by the 20-yard shuttle, 3-cone drill, 60-yard shuttle, standing long jump and vertical jump. When they are done with the measurable drills, they do position drills. The position drills are run by NFL coaches and usually each player does six or seven different drills that are specific to their position. After the players are done with the position drills any player that is asked to work out at a second position does maybe four or five drills for that second position. It is here where many smaller defensive linemen will do linebacker drills.
All the drill work and measurable events are taped and clubs receive the workout tapes about a week after the Combine is complete. The league does a great job with these tapes, as they are split up individually so you can watch one player's complete workout and then compare it to another player.