September 10, 2010 -
Greg Gabriel
AFC rookie rundown
AFC teams drafted 119 players in this past April's draft. Of the 119 prospects, only seven are not with their original team in some capacity (roster, IR, PUP, practice squad). There will be 18 rookie starters for AFC teams this Sunday. Nine players are on injured reserve, one player is on PUP and three are on their drafting teams' practice squad.
To see the NFC rookie rundown, click here.
Buffalo Bills
Buffalo had nine picks in April's draft. Five players made the opening roster. Of the five, first- round pick C.J. Spiller will start. Second-round pick defensive tackle Torrell Troup won't start but will get plenty of playing time. Two players were placed on injured reserve — LB Danny Batten and receiver Marcus Easley. Two late-round picks were cut and not put on the practice squad.
New York Jets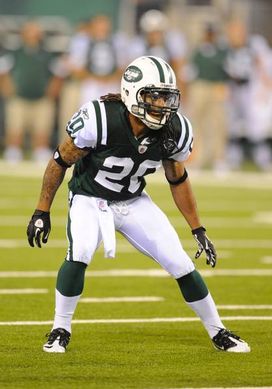 ICONKyle Wilson will see plenty of action for the Jets.
Because of trades, the Jets had only four choices in the draft. All four made the roster. The player who will get the most playing time this year is first pick Kyle Wilson.
New England Patriots
The Pats had nine picks. Seven of those players made the team. Two are listed as starters — corner Devin McCourty and punter Zoltan Mesko. Two others will get significant playing time — tight end Rob Gronkowski and linebacker Brandon Spikes. Their sixth- and seventh-round picks did not make the team or practice squad.
Miami Dolphins
The Dolphins have to feel good with their first three picks all listed as starters. They are DT Jared Odrick, LB Koa Misi and OG John Jerry. Fourth pick LB A. J. Edds is on injured reserve. Nolan Carroll and Rashad Jones are backups and Chris McCoy is on the practice squad.
Cincinnati Bengals
The Bengals always seem to have a lot of draft picks. In this past draft they made nine choices. Seven of those players made the team. First-round pick tight end Jermaine Gresham will start. One player, OT Otis Hudson, is on the practice squad and receiver Dezmon Briscoe was cut.
Cleveland Browns
The Browns had eight selections. Second-round pick T.J. Ward is the only starter at this time but it won't be long before first-round pick Joe Haden lines up as a starter. Three other choices made the roster. Another second-round pick running back Montario Hardesty is on injured reserve with a knee injury. Larry Asante is on the practice squad. Third-round pick QB Colt McCoy is a backup now but he will be the QB of the future for the Browns. He had a strong preseason. Their seventh-round pick was cut.
Baltimore Ravens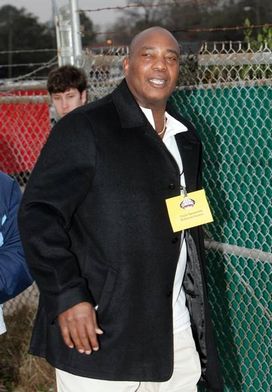 ICONOzzie Newsome brought in a talented 2010 draft class.
Ozzie Newsome consistently does a great job on draft day. This year he did not have a first-round pick and took Texas DE/LB Sergio Kindle in the second round. Kindle fractured his skull in a fall before camp began and has yet to sign. By all reports he should be ready to play in a few weeks. Second pick Terrence Cody played well in the preseason but because of an injury may not play in week one. The Ravens had five other picks, and all but sixth-round pick Ramon Harewood are on the roster. Harewood is on injured reserve.
Pittsburgh Steelers
Pittsburgh, with Kevin Colbert in charge, always does well in the draft. This year was no different. First pick Maurkice Pouncey will start at center. The Steelers had eight other picks and all made the club except tackle Chris Scott, who is on PUP — which means he can't start playing until after week 6.
Indianapolis Colts
The Colts only had five picks in the draft. Third-round pick Kevin Thomas is on injured reserve and will miss the season. First pick Jerry Hughes will be a backup at defensive end. He fits the mold of what Indy looks for at the position. In the preseason, the best-looking rookie was LB Pat Angerer. He proved to be a playmaker. He has great instincts and shows range. He should be a starter soon. The other two picks that made the team are guard Jacques McClendon and tight end Brody Eldridge.
Jacksonville Jaguars
General manager Gene Smith had six picks. He took some heat for taking Tyson Alualu with the 10th pick in the first round but Alualu has earned a starting position with his play in the preseason. He will be a good player for Jacksonville. The Jags took defensive linemen with their first four picks. Three are on the opening roster. Third-round pick D'Anthony Smith is on injured reserve. The two sixth-round picks also are on the team — return man Scotty McGee and RB Abdul Karim.
Houston Texans
Defensive back Kareem Jackson was Houston's first pick and he will start at corner. Of the nine selections made, seven are on the opening roster. Two players that Houston was hoping to get production from are on injured reserve. They are return man Trindon Holliday and running back Ben Tate.
Tennessee Titans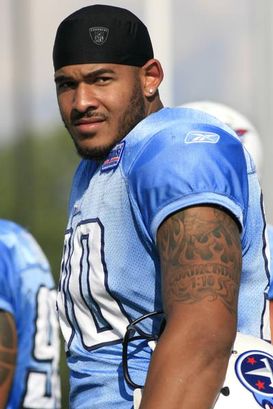 ICONDerrick Morgan battled an injury in training camp.
Back in April, I liked Tennessee's draft and I feel no different now. Seven of the eight draft picks made the team. Sixth-round pick safety Myron Rolle, who did not play college football last year, is on the practice squad. Rolle is a Rhodes Scholar and was in England studying. Though no rookie will begin the season as starter, the Titans feel they will get good production from DE Derrick Morgan, DB Alterraun Verner and WR Damian Williams. Morgan, their first pick, missed a lot of practice time in camp with an injury.
Oakland Raiders
Al Davis has to be happy with the team's draft. All eight draft choices made the team and there are three opening day starters. The starters are first pick LB Rolando McClain, second-round pick DT Lamarr Houston and third-round pick OC Jared Veldheer from tiny Hillsdale College. The Raiders had five other picks and all of them made the team.
Kansas City Chiefs
GM Scott Pioli and scouting director Phil Emery are very thorough in their evaluations and it looks as if has paid off. All seven draft choices are on the club. First pick Eric Berry starts at safety, second-round pick Dexter McCluster, though not listed as a starter, is the Chiefs slot receiver and the other second-round pick Javier Arenas will be the nickel back and return kicks. McCluster will also be used on returns. The other four picks all made the roster. The Chiefs are high on fifth-round safety Kenrick Lewis. He lacks great timed speed but has excellent ball skills and instincts.
Denver Broncos
Denver had nine selections, and eight of the nine made the opening day roster. Only the team's seventh-round pick didn't stick. The only starter is center J.D. Walton, who was taken in the third round. Top pick Demaryius Thomas has been plagued by injuries but still is on the active roster. Tim Tebow is listed as the third QB but if things don't go well the first half of the season you can expect Tebow to play.
San Diego Chargers
GM A.J Smith o nly had five choices. Three made the team. Two of those, RB Ryan Mathews and safety Darrell Stuckey, are starters. Third-round pick LB Donald Butler is on injured reserve. Mathews will have an impact as a rookie.
Click here to purchase the Total Access Pass/ Fantasy Draft Guide from the NFP.