August 15, 2014 -
Greg Gabriel
Another step forward
Jacksonville Jaguars rookie quarterback Blake Bortles showed some improvement during his second NFL outing Thursday night against the Chicago Bears. The plan was for Bortles to open the second half of this game, but with Jacksonville taking so many offensive snaps in the first half, the coaching staff bumped up the rookie's appearance.
In total, Bortles was under center for two series in the second quarter, played the entire third quarter and one series in the fourth. He was in for 30 snaps and was able to put six points on the board thanks to two drives that resulted in field goals.
While Bortles played better than in his first appearance, he still isn't ready to be an NFL starter. In two games, Bortles has yet to lead the Jaguars to a touchdown. Yes, he has taken the team on long drives (eight and nine-play drives against Chicago), but he also hasn't been able to finish them.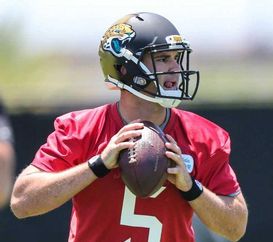 Bortles took a step forward during his second taste of preseason action.
I've read a variety of media reports where the writer is pushing for Bortles to start for the Jaguars in Week 1. What many media types fail to realize is that Bortles has yet to face any type of complex NFL defense. In Thursday night's game against Chicago, Bortles did not play against any of the Bears' defensive starters. In addition, Chicago played a very basic scheme and did not blitz a linebacker once. In his 30 snaps, the rookie from Central Florida never faced more than a four-man rush. In fact, Chicago rarely used a sub package in the game and often went with a safety or linebacker covering the third wide receiver.
There was one nice throw on a crossing route where Bortles did a good job with ball placement to the wide receiver, but the defender was a linebacker. He won't see that in the regular season. He also won't see many four-man rushes.
The one thing I did like about Bortles' play was his poise and general command of the huddle. He always seemed in control of the situation and didn't get flustered. Jacksonville used a lot of rollouts and bootlegs in the game to get Bortles out in space. Bortles did a good job showing his athleticism, arm strength and accuracy while throwing on the run.
In addition, another thing I liked about the rookie's play was that he threw the ball downfield more often. During his first game, I believe Bortles threw the ball downfield only once. In this game there were several longer throws both from the pocket and when rolling out. He threw the ball with good accuracy, showing quality arm strength.
If there was a cause for concern, it came during Bortles' final series. With a 12-point lead, Jacksonville had a first-and-ten at their own 15-yard line to open the fourth quarter. In a situation like this you want to play mistake-free football and run the clock.
On what was supposed to be first down, the right tackle was called for a false start making it first-and-15 from the 10-yard line. On first down, the Jags ran a play to their left and lost four yards. On second down, a pass play was called. Bortles faced pressure in the end zone, rolled right and threw into coverage. While he almost completed the pass, it was a very low percentage throw with three Bear defenders surrounding the lone Jacksonville receiver.
On third down, Bortles again faced pressure, rolled to his right and decided to run, picking up six yards, forcing Jacksonville to punt. In total, the drive used only 1:30 of clock and gave the Bears good field position. That field positon led to a Chicago touchdown, putting the Bears back in the game.
All told, Bortles gets a B+ for his play. He showed improvement over his first game, threw downfield with accuracy and was able to lead the Jags on two scoring drives even though both were field goals.
Going into the preseason, the plan was for Bortles to back-up veteran Chad Henne in 2014 while learning the NFL game. Based on two outings, that plan shouldn't change unless the Jaguars get off to a poor start and take themselves out of a playoff spot during the first half of the season. Once Jacksonville is eliminated from the playoffs, I would then let Bortles get a head start on 2015. A head start that could pay off big.
Follow Greg on Twitter: @greggabe