April 10, 2012 -
Greg Gabriel
Are QBs being overrated and drafted too high?
Until the last few years, quarterbacks have pretty much been drafted in the rounds they were supposed to be drafted when you looked at their overall talent and career production. With the exception of Vince Young in 2006, who was productive but a very unconventional passer, and JaMarcus Russell in 2007, who had a big arm but no football character, none were really reaches.
For example, Kevin Kolb, who was very productive at Houston, went in the second round. Brian Brohm and Chad Henne, who were also very productive at Louisville and Michigan respectively, were also second round picks. Kyle Orton, who threw for nearly 9,000 yards and 61 touchdowns, didn't get drafted until the fourth round in 2005.
Things started to change in 2010 when Denver traded up to select Tim Tebow with the 25th pick of the first round. This argument has gone on for a while but many feel Tebow was a first round competitor but not a first round quarterback. If Denver felt that Tebow would lead them to the promise land they never would have spent $95 million to sign Peyton Manning and then deal Tebow to the Jets for two low round picks.
In the 2011 draft, four quarterbacks got drafted in the first round and if you look at how their talent and college careers compared to quarterbacks drafted in previous years, only Cam Newton deserved to go in the first round. In previous years the others would not have been drafted before the second round and some may have gone in the third. Remember, the second best quarterback in last year's draft ended up being Andy Dalton and the Bengals drafted him in the second round. Dalton didn't have the great physical traits like some of the players taken in front of him, but his instincts and intangibles were superior. That goes a long ways in evaluating quarterbacks.
This year, after Andrew Luck and Robert Griffin III, no other quarterback deserves to be drafted in the first round based on what they have done in college. If players like Ryan Tannehill and Brock Osweiler get drafted in the first round this year, the teams that draft them will be reaching big time and if they don't work out, it could set back the teams that draft them for years to come. Why? Because not only are they reaching for a player, they are also passing up taking a more talented player at another position and they still will have not taken care of the quarterback need. These players are developmental type quarterbacks and not ready to be starters; they will need time to develop their skills and that could take years.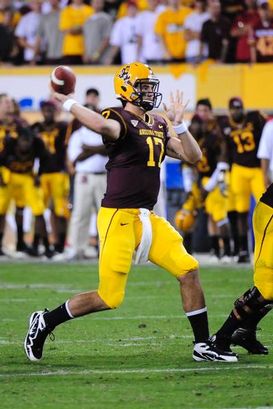 ICONBrock Osweiler may get overdrafted and needs a lot of time to develop.
Why is this happening? The number one reason is there is a shortage of quality quarterbacks in the NFL. Teams that don't have one will do just about anything to get one, including making ludicrous trades for inexperienced players and taking the quarterbacks that are in the draft a round or two early. Some seem to be drafted more on their workout than their game tape. I have almost come to the opinion that the quarterback workouts have become useless. They are scripted affairs that have been practiced for weeks and so it's difficult to look anything but good! What you see in a workout you are not going to see in a game when the bullets are flying.
When scouting quarterbacks, a lot more goes into it than a player's arm strength and athletic ability. To describe it briefly, a scout has to break down the prospect's mechanics and release. Does he throw a tight ball or loose ball? How strong is his arm? Is he not only accurate but does he show good ball placement? In college the window to complete a pass is much larger than in the NFL. An NFL quarterback has to be able to thread the needle. You also look to see if the player can he keep plays alive with his athleticism, how does he see the field, can he find secondary receivers? Then you look at his decision making, how quickly does it take for him to make a decision and is it the right decision? What kind of offense does he play in? Does he play from a shotgun or from under center? How quick is his delivery? Most of those are the physical traits, and then you have to also look at the intangibles such as his leadership ability. How well does he learn and retain? Is he respected by both his teammates and coaches? Do his coaches and teammates believe he is a winner? How does he do in big games and how does he react to pressure? In my opinion the intangibles can be more important than the physical traits. If a quarterback can't win the big games in college, how can you expect him to be a winner in the NFL? These things don't change. Granted, the talent a quarterback is surrounded with has something to do with wins and losses but remember great quarterbacks make the players around them better!
In 2004 we saw four quarterbacks drafted in the first round, the first three (Eli Manning, Philip Rivers and Ben Roethlisberger) have had great careers, the fourth (J.P. Losman) was awful. From 2005 thrugh 2009, 13 quarterbacks were drafted in the first round and only four (Aaron Rodgers, Jay Cutler, Matt Ryan and Matt Stafford) have become what I would call franchise quarterbacks. The rest have had good to poor careers to date. The chance of a first round quarterback becoming a true "franchise" quarterback is probably less than 50 percent so why make those odds even lower by reaching for a player not worthy of a first round pick?