August 19, 2011 -
Greg Gabriel
Are the Rams ready to win the NFC West?
In 2010, the St. Louis Rams came within one game of winning the NFC West and being in the playoffs. In the last game of the 2010 season, the Rams lost to Seattle in a "winner take all" game. The Rams were a young team with a rookie quarterback and were inconsistent at best. Now with Sam Bradford having played his entire rookie year and putting up very good numbers the Rams look like they may be able to overtake Seattle and win the West. Why? Experience for one; Bradford played every game and picked up valuable experience. The Rams also spent three draft choices acquiring skill players to help Bradford.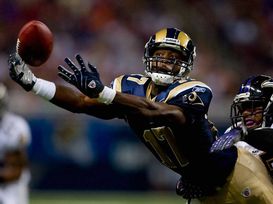 Donnie Avery is healthy and ready to be a go-to option for Sam Bradford.
In the second round the Rams drafted tight end Lance Kendricks from Wisconsin, who has both size and speed and will give the Rams a deep threat at the tight end position. In the third and fourth rounds they drafted receivers Austin Pettis from Boise State and Sam Palas from Hawaii, both highly productive college players with size. Add these players to returning players Danny Amendola, Brandon Gibson, and Donnie Avery coming off an injury and the Rams have the makings of a good receiving corps.
In 2010, the offensive line had rookie Rodger Saffold starting at left tackle and he became one of the best rookie offensive linemen in the league. Their right tackle was former first-round pick Jason Smith, who was moved over from the left side. These players played well and gained valuable experience and this year with the addition of free agent guard Harvey Dahl the line should be even better. The person probably most happy with the improved line is running back Steven Jackson, who also got some help with the Rams signing free agent Cadillac Williams. Granted, Williams isn't the back he was a few years ago but if he can give St Louis 10 good touches a game, it makes Jackson more valuable and dangerous.
On defense the Rams added first-round pick Robert Quinn at defensive end and also added defensive tackle Justin Bannon. With returning players Chris Long, C.J. Ah You, Fred Robbins and George Selvie the Rams will be in position to have a good rotation and keep players fresh.
In the secondary, the Rams added safety Quintin Mikell from Philadelphia. Mikell adds experience and leadership to their secondary. He got off to a great start in their first preseason game with an interception on the very first series.
Overall, I see St. Louis as a vastly improved team and with San Francisco having a new coach and quarterback problems, Seattle playing with a new quarterback and Arizona playing with talented but inexperienced Kevin Kolb the Rams could very well win the West. They are a team on the rise and praise should go out to GM Billy Devany for an outstanding job of putting this team together.
Aaron Maybin
On Tuesday, 2009 Buffalo Bills first-round pick Aaron Maybin was cut and went unclaimed on waivers. On Wednesday, Maybin signed with the Jets and immediately stated that it will be a pleasure to play in New York.
Being an early first-round pick in 2009, Maybin has to go down as one of the all time "busts" in NFL history. Known as a sack artist at Penn State he had a total of NO sacks in his two years in Buffalo.
When I was in Chicago, we had a term we used for players who underachieved. The term was "cursed with talent" -- that description fits Maybin to a "T." At the Combine in 2009 I interviewed Maybin and to say he was arrogant is an understatement. He was totally full of himself, so it doesn't surprise me that he failed in Buffalo. Maybin is a talented player and can be a good NFL player if he puts in the time and effort to be good. To date he hasn't done that. He thought he could "get by" with his natural talent. Sorry Aaron, that doesn't get it done in the NFL. Everyone is good and most are hungry…too bad you aren't.