March 27, 2012 -
Greg Gabriel
Are they defensive ends or outside linebackers?
This year's draft has been labeled by some as having a "weak" defensive end class. When the so-called experts label a class "weak" it's usually because there are not many players who you could say are sure to be drafted in the top 15. Looking at it from that viewpoint I could agree that there aren't many players that will go at the top of the first round, but there is some depth at the position and there are a number of players we could label as "tweeners." By that I mean players who may be a defensive end in some 4-3 schemes or an OLB in some of the 3-4 schemes.
Workouts can usually determine if a player has a chance to play as a 3-4 outside linebacker. The prospect has to show that he has the ability to turn his hips and drop into coverage and also be able to plant and drive on the ball. If a player has shown strong pass rushing skills in college and then shows that he has the athletic ability to drop then his value goes up in the eyes of some teams.
Looking back at the 2006 draft, Mark Anderson was a small pass rushing defensive end at Alabama. He measured about 6-4 and 248 pounds and had a very strong Senior Bowl week. But when he worked out for 3-4 teams prior to the draft he showed some tightness in his hips. This made the 3-4 teams feel as if he couldn't make the conversion to linebacker and because of that he fell in value and the Bears were able to draft him in the 5th round. He turned out to be a steal as he had 13 sacks as a rookie.
Last year, players like Ryan Kerrigan and Aldon Smith showed that they could drop and were drafted in the 1st round and went on to have very productive rookie years. In fairness, it has to be pointed out that even though Smith was drafted as an outside linebacker he did not play on his feet that often. He was used more as a designated pass rusher and that's where his production was. With that being said, let's take a look at some of the "defensive ends" in this draft and predict what position they will actually be playing once they get to the NFL.
Courtney Upshaw - Alabama
Upshaw had a great career at Alabama and showed dominating ability this past season. But when it comes to playing at the next level there may be some problems. Upshaw measures 6015 and 272 with an arm length of 31.5." He didn't work at the combine and also didn't workout at Alabama's first pro day in early March. He will be working out this week and that will tell us a lot.
With his height and arm length it will be very difficult for him to play defensive end. You could say that Dwight Freeney was 6-1 and 265 and played well so why can't Upshaw? Freeney ran a sub 4.5 on his pro day and has better than 33' arms…that's the difference. The one common denominator of outstanding defensive end pass rushers in the NFL is not speed, its arm length. Few players with short arms turn out to be great pass rushers. A player needs long arms for leverage. In my opinion, Upshaw has to prove he can be a 3-4 outside linebacker who can rush the passer on an occasional basis. If he cannot drop into coverage than his NFL potential is limited. Does that mean he won't get drafted in the first round? No…a club still may draft him that high but I feel that he may not play to the level of where he is drafted if he can't play on his feet.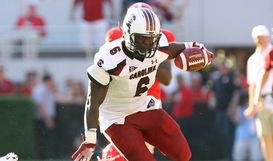 ICONMelvin Ingram may be best as an outside linebacker in a 3-4.
Melvin Ingram – South Carolina
Ingram has similar size and arm length to Upshaw (6014 and 264, 31.5). He ran about 4.71, not great speed, but he is explosive. The one thing Ingram has proven is that he can drop into coverage and do it well. Because of his size and arm length I feel he has to play as an outside linebacker in a 3-4. There are many scouts I have talked to who feel that because Ingram has such great instincts that he can play outside or inside as a linebacker and be a designated rusher. While he doesn't have great speed, he is explosive and plays with some quick twitch.
Andre Branch – Clemson
With his size, speed, arm length and athleticism, Branch can play in most 3-4 and 4-3 schemes. He is 6042 and 259 with 34" arms and can run 4.69. He has the frame to bulk up some to play as an end in a 4-3 and the athleticism to drop into coverage for the 3-4 clubs. This enhances his value and will help him on draft day.
Quinton Coples – North Carolina
At 6056 and 284 with 33.5" arms and 4.71 speed, Coples has the physical traits to play in any scheme. He can be an outside linebacker or a 5-technique in a 3-4 or a defensive end in almost all of the 4-3 schemes. He is a very good athlete with body control and explosion. His problem is consistency. He played very well in 2010 and again at the Senior Bowl but his 2011 season was average at best. The question teams are now trying to answer for themselves is which player are they buying? The Coples of 2010 or 2011? If you draft him as high as his talent suggests you better hope that you get the player we saw in 2010!
Bruce Irvin – West Virginia
Irvin is an interesting guy. He played down at West Virginia and has flashed dominating pass rush skills. His size (6030 and 245, 33.5" arms and 4.45 speed) says 3-4 outside linebacker. He has great overall athleticism and body control but he also has the frame to get to 255-260 which means that he could play defensive end in some of the 4-3 schemes. Irvin has had a few off field issues that have to be checked out, but if the clubs feel he is all right, then he could be drafted fairly high. Few have his speed and athleticism.
Whitney Mercilus - Illinois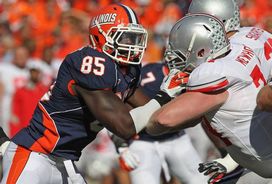 Whitney Mercilus has the talent, size and athletic skills to play defensive end in a 4-3 or outside linebacker in a 3-4.
I feel Merculus is somewhat like Coples. He has the talent, size and athletic skills to play defensive end in a 4-3 or outside linebacker in a 3-4. He has excellent size at 6035 and 261 with the frame to carry 270-plus. His arm length is very good (33.88) and he has excellent speed (4.68). He showed both at the Combine and his pro day that he was able to drop and he hasn't scratched the surface of how good he can be as a pass rusher. I would think that many teams have him as a mid first round type because of his upside.
Nick Perry – USC
In my opinion, Perry can play as a 4-3 defensive end, but he would be better off as a 3-4 outside linebacker. He has played both but because of his experience playing on his feet the 3-4 teams should covet him. He has ideal size and speed (6026 and 271, 4.58, 33" arms) and very good athleticism. There are some scouts I have talked to who feel that regardless of how he tests, they question his explosion and his instincts. He shows good edge pass rush ability but lacks good counter moves. His coverage skills are more than adequate.