August 23, 2011 -
Barry Dorey
Bears' reshuffled offensive line making strides
Let's take a look at two of this past weekend's preseason contests: Chicago against the New York Giants and Dallas against San Diego.
Chicago – New York
One thing you can be sure of is when a Tom Coughlin-coached team is back home after a poor showing on the road, they are going to be ready for the game and they will play that home game with intensity. I have seen this over and over again since Coughlin has been the head coach of the Giants.
Last week, the Giants looked mediocre in their 20-10 loss to Carolina. There was no attitude in their play and they looked average at best. Last night they looked much better. They were much more aggressive and played with a sense of urgency. Their special teams play was excellent and on both offense and defense they came up with big plays when they were needed.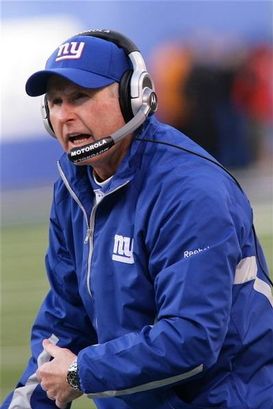 ICONTom Coughlin and the Giants bounced back Monday night after a rough opener.
Despite their good play, the Giants lost starting corner Terrell Thomas for the season with a torn ACL. This is the fourth corner New York has lost to injury since the start of training camp three weeks ago. With first-round pick Prince Amukamara going down with a broken foot early in camp and losing Thomas you can be sure that GM Jerry Reese and pro director Dave Gettelman will be looking everywhere for corner depth in the coming week This late in camp, it may be a hard chore.
Going into this game the Bears were looking for solid play from their offensive line. The reshuffled line looked very ordinary last week versus Buffalo giving up 9 sacks, so the media has been on them all week. The Giants have one of the better pass rushing lines in the league, and with Justin Tuck and Jason Pierre-Paul, they had a lot of speed coming off the edge and gave Chicago much to worry about.
Yes, the Bears lost 41-13, but it wasn't because of the offensive line play. They gave up only 1 sack last night and that was a coverage sack. I felt that J'Marcus Webb and rookie Game Carimi more than held their own versus Tuck and Pierre-Paul. The Bears offense needs to come up with more big plays, but as I wrote earlier in camp, the line is improved and could turn into a strong point for the club. It's young but talented.
Dallas – San Diego
The Dallas Cowboys went into April's draft with a huge need at right tackle. With the 9th pick they had their choice of any offensive lineman on the board and chose Tyron Smith form USC. At the time I felt it was an excellent pick and after watching him play on Saturday night my feeling hasn't changed. Even as a rookie, Smith may be the most athletic right tackle in the league. He has great size, especially in both the upper and lower body. He gets off the ball very quickly and is explosive on contact. He was consistently able to get movement with his run blocks and does an excellent job finishing his run blocks. While his feet, agility and balance are very good he still needs some work with his set angles. This will come with playing time. The thing that was obvious was that when he locks onto his opponent, it's all over. He has the look of becoming an excellent pro.
The San Diego Chargers had a need at defensive end in their 3-4 front. Because they were picking 18th, they could not be sure that they were going to fill that need with their first pick but early entry Corey Liuget was there for them. Back in late March, I wrote how I felt Liuget was an excellent fit for teams using a 3-4 scheme. I liked his awareness, his initial quickness and his nasty demeanor. There was nothing he did Saturday that changed my mind. He was consistently the quickest San Diego lineman off the ball, he stays low and is very strong and explosive. One of the things that rookie defensive linemen need to work on the most is hand placement and I felt that Luiget's hand use was excellent. He gets separation from blockers and can disengage quickly. He has the power to control blockers and the leg drive to get penetration and disrupt. With his long arms and quick first step he is able to get pressure as a pass rusher. Like Smith, I feel Luiget is going to be an excellent pro and he'll be a productive player early in his career.