July 09, 2013 -
Greg Gabriel
Before they were college football stars
College football recruiting is and has been big business for years. It's what has made Rivals.com and Scout.com household names for the college football fan. There are fans that get more hyped up over a 4-star commitment than they do over a big win.
When I was a college scouting director I subscribed to the recruiting sites because I wanted to know what the players we were interested in the draft were thought of when they came out of high school. I started doing this in 2002 and what I came up with at that time was the star system in recruiting was bogus. Sure, there were players who were 4 or 5-star recruits who became legitimate NFL prospects, but there were just as many if not more 2 and 3-star players who ended up being drafted in the premium rounds of the draft (rounds 1 and 2).
I have to admit in the last two drafts the ratings of the players have gotten a little better but still half of this year's first round were players who were rated less than 4 stars out of high school by the recruiting services. Let's take a look.
The interesting fact about this year's draft was that 3 of the top 4 picks and 6 of the top 11 picks were offensive linemen. That has never happened before. When you look at how these players were rated in high school it also becomes an even more interesting conversation.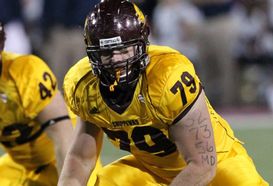 US PRESSWIRECentral Michigan's Eric Fisher was rated as a 2-star recruit and had no major school offers.
This year's top pick, Eric Fisher from Central Michigan, was rated as a 2-star recruit and had no major school offers. Luke Joeckel was a legitimate 4-star but fourth pick Lane Johnson from Oklahoma wasn't even a lineman in high school. He played quarterback and wasn't recruited. He went to a junior college for a year then transferred to Oklahoma where he first played tight end and then defensive end before moving to tackle.
Fifth pick DE Ziggy Answah from BYU never played high school football and enrolled at BYU on an academic scholarship. It wasn't until 2010 that he "tried" football. Third pick Dion Jordan was rated as a 4-star tight end but moved to linebacker when he got to Oregon. So of the first five picks in this year's draft only two were legitimate recruits out of high school.
Looking at the other three offensive linemen taken in the first 11 picks, D.J. Fluker from Alabama was a 5-star recruit. Jonathan Cooper and Chance Warmack were 3-star recruits. Three other offensive linemen were taken in the first round. Justin Pugh from Syracuse was only a 2-star player and Travis Frederick was a 3-star. The interesting pick was Bears selection Kyle Long from Oregon. Coming out of high school, Long was a 5-star recruit and was recruited by the top programs in the country but chose to play baseball instead of football. He has only played three years of college football and two of those years were at a junior college.
When we look at the rest of the first round, many were highly sought-after prospects. At the linebacker position, Barkevious Mingo was a 4-star player as was Jarvis Jones and Alec Ogeltree. The rest of the defensive linemen were also highly talented in high school. Sheldon Richardson, the Jets selection, was originally a 5-star player but didn't qualify academically. He went to a junior college before transferring to Missouri. He was rated as a 4-star in junior college. Shariff Floyd was also a 5-star player. Green Bay's selection, Datone Jones from UCLA, was a 4-star. Bj