August 27, 2010 -
Greg Gabriel
Bradford may have hold on starting job
Because of an injury to starter A.J. Feeley, Sam Bradford — the first overall pick in last April's draft — made his first NFL start Thursday night. He played so well, he may not be giving the job back.
Bradford played the entire first half and completed 15 of 22 passes for 189 yards and 2 touchdowns. When he left the game St. Louis held a 20-13 lead.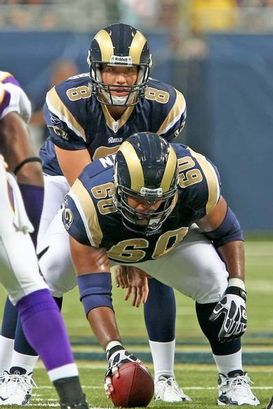 ICONSam Bradford looked like an NFL QB on Thursday night.
Bradford's play was almost flawless. He was very calm in the pocket and did an outstanding job going through his progressions. When the primary receivers were covered he was able to find a secondary receiver or throw a check down. He showed the ability to keep a play alive with his feet and make throws on the run. Completing 15 of 22 shows accuracy, but his ball placement was very good, as well. He consistently put the ball in a place where his receivers could run after the catch. He does not have a great arm but it is more than good enough. He has a compact delivery, throws a tight ball and can make all the necessary throws.
Second-round pick offensive tackle Rodger Saffold got the start at left tackle and also played extremely well. I like the way he came off the ball in the run game. He showed some pop on contact and was able to get some movement with his blocks. In pass protection he sets quickly, has quick hands and shows good ability to mirror his opponent. He plays with good natural knee bend and can anchor. He should become a fixture at the left tackle position. Last year's first-round pick Jason Smith got the start at right tackle and looks much more comfortable playing the right side.
The lone negative was St. Louis wide receiver Donnie Avery suffered what may be a serious knee injury in the second quarter. He is the Rams top deep threat.
For New England, Tom Brady played just about three quarters. He gave a typical Tom Brady performance completing 18 of 22 passes for 273 yards and 3 touchdowns. That included a 65-yard bomb to Randy Moss. The young player who stood out, though, was second-round pick Rob Gronkowski, a big tight end from Arizona. Gronkowski caught 3 passes for 66 yards and 2 touchdowns. On the first TD he broke a tackle at the 5-yard line and dove into the end zone. On the second TD he had to make an excellent adjustment of a high pass.
The interesting thing about Gronkowski is he missed all of the 2009 season because of back surgery. Even though he missed the season, he decided to leave school early and enter the draft. For a guy who only had two seasons of college football, he looked excellent. He should put up some big numbers for the Patriots this year.
The other second-round pick for New England was linebacker Brandon Spikes of Florida. He has already cracked the New England starting lineup and is playing well. He is a very instinctive and aggressive player. He finished the game with 7 total tackles.
Being this was the third preseason game, it is usually the last time the starters get extended play before the regular season. Don't expect the New England starters to play more than a quarter next week. The exception may be in St. Louis. If Rams head coach Steve Spagnuolo feels Bradford will be the starter opening day then he may want to get him in for a half next Thursday against Baltimore.
Click here to purchase the Total Access Pass/Fantasy Draft Guide from the NFP.