February 21, 2012 -
Greg Gabriel
Breaking down Alabama's Richardson and Hightower
A few weeks ago we talked about three Alabama players that are sure to go high in the NFL Draft — Dre' Kirkpatrick, Courtney Upshaw and Mark Barron. Today we will finish the exercise by breaking down the other two Alabama players who are certain to be premium draft choices. They are running back Trent Richardson and linebacker Dont'a Hightower.
Trent Richardson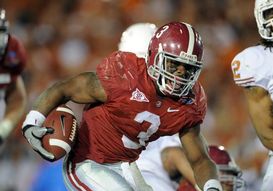 ICOnTrent Richardson ran for 1,679 yards and 21 TDs on 263 carries this past season.
Richardson is a third-year junior who is coming out early. This was his first year as a starter but in his previous two years he played in a rotation with former Heisman Trophy winner Mark Ingram, who was the 1st round pick of the New Orleans Saints last year. Despite playing in a rotation his first two seasons, Richardson put up excellent numbers. In 2009 he ran for 751 yards on 145 carries and in 2010 he had 700 yards on 112 carries. This year he ran for 1,679 yards on 263 carries to go along with 21 touchdowns. He averaged 6.0 yards per carry over his career and also caught 68 passes during his tenure.
Coming out of high school, Richardson was a 5-star recruit by both Rivals and Scout, and both had him ranked as the 2nd best running back in high school in 2008. The running back that was ranked 1st will also be in this draft but I doubt he will get drafted and may not even be a free agent. His name is Bryce Brown and he has had a very nondescript career at both Tennessee and Kansas State.
Richardson has excellent size for the position at an estimated 5-10 and 222. He is a very good athlete for the position with speed, balance, power and a burst. While not a burner he has very good play speed. I would estimate that he runs in the low 4.5's. What he has is great stop and go ability to go along with very good change of direction and a quick burst. He is very strong and powerful and can be a load to bring down in one on one situations.
Richardson is a quick starter with excellent instincts and vision. He seldom makes a poor decision when on the move. He has very quick feet to make a cut in the hole or in space. He consistently keeps his feet moving, has excellent lean and almost always gets yards after contact. He is effective both inside and out and if you give him just a little room he will turn it into a long run.
As a receiver he is very reliable with soft hands and the upper body flexibility to adjust to throws behind him. He is not used much as a route runner but often is used on check downs and screens. He is an effective pass blocker who will face up and can use his hands.
Overall, Richardson is a complete back. He can play on all downs and be effective. I have no doubt he will start as a rookie and be productive. While he doesn't have some of the special traits of an Adrian Peterson (few do) he could very well be the first running back taken in the draft.
Dont'a Hightower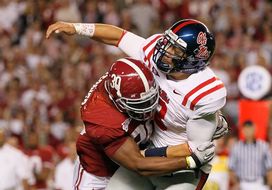 Dont'a Hightower has been a starter since his freshman year at inside linebacker for Alabama.
Hightower is a fourth-year junior who is entering the draft early. He has been a starter since his freshman year at inside linebacker in Alabama's 3-4 base scheme. He entered college in 2008 but only played in four games in 2009 before tearing his ACL in his left knee. He was given a medical redshirt for that season.
Out of high school, Hightower was a 4-star recruit and was recruited by all the top powers in the Southeast. He was offered by schools such as Auburn, Tennessee and Georgia Tech.
Hightower has great size for an inside linebacker. Last spring he reportedly was 6-3 and 258 and ran in the mid 4.7's. While he flashes that speed at times, you don't always see it on the field.
Hightower plays both up and down in Alabama's defense. On run downs he lines up as an inside linebacker, while on passing downs he plays from a 3-point stance at left end. He is a quick reactor with good instincts. He has no problem finding the ball. He can be stout at the point of attack and seldom gives ground to blockers. He has good hand use and can shed quickly. While he comes up with some big plays, I am concerned about his overall consistency. He doesn't play hard down after down and after watching tape you can honestly say to yourself that he doesn't make enough plays. He seems to play to the level of comp, playing good in big games and average in others.
What I don't see is a consistent sense of urgency in his play. Comparing him to a player like New England's Brandon Spikes, who was at Florida two years ago, it isn't close. Spikes doesn't have anywhere near the physical traits that Hightower has (he's a 5.1 40 guy), but he was a playmaking machine and showed dominating ability while at Florida. When watching Hightower, you see a guy who makes some plays but the consistent effort isn't there and he doesn't come close to dominating similar competition. It's not that he does things poorly, it's you expect more given his natural traits.
As a pass rusher, he gets off the ball quickly and has a good bull rush, can use his hands and make some counter moves and shows an average burst to the quarterback coming off of blocks. In coverage he has a good drop, gets depth, shows awareness and can plant and drive on the ball. He has good hands.
Overall, I am not disputing Hightower's talent. He has the ability to play several positions and can play in most defensive schemes. I am disputing his overall competitive nature. He does not consistently play to his talent. While he will be a high pick you have to question if he will play to the level of where he gets picked. While he lined up inside on base downs at Alabama he may be best suited to play outside linebacker in a 3-4. I say this because of his pass rush skills and overall athleticism. Still, he has the tools to play inside in a 3-4 or be a Mike in a 4-3. It will be interesting to see where he gets drafted.