April 21, 2011 -
Greg Gabriel
Breaking down Anthony Castonzo and Will Rackley
We have already written up many of the top offensive linemen for this year's draft, but two we haven't talked about yet are Anthony Costanzo of Boston College and Will Rackley of Lehigh. Castonzo will be one of the first offensive linemen drafted and Rackley could go anywhere between rounds 3 and 5.
Anthony Castonzo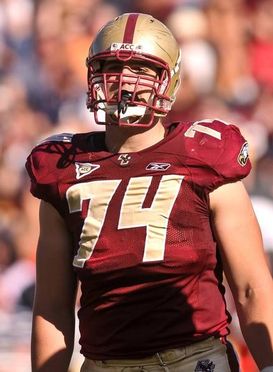 ICONAnthony Castonzo started every game of his college career.
Castonzo is a fourth-year senior who has started every game of his college career. He played right tackle as a freshman in 2007 then moved to left tackle the next year and has been a fixture there for three seasons. He went to prep school for a year after high school because he was undersized and was not being recruited by top schools. After prep school he was still undersized but was offered by programs such as Stanford, Virginia and Vanderbilt. He decided on Boston College and has been a starter since day one.
He is a very intelligent student athlete. He wants to go on to medical school when his playing days are over and is a Rhodes Scholar candidate. Because of his outstanding academic accomplishments there are some scouts who worry how important football is to him. You don't see that in his play.
Castonzo has good but not great size. He measured 6-7 and 311 pounds at the Combine and has good arm length at 34.5 inches. He is a good athlete who runs well (5.22) with very good agility and body control. His agility drill numbers were near the top of the offensive line group. He has gotten bigger and stronger every year in college, but still needs to improve his lower body strength and bulk.
When I saw Castonzo at the Senior Bowl, I questioned his run blocking skills. He gets off the ball quickly but I saw him stalemated too often and even saw his legs buckle at times. On tape he looked different and much better. He can be an explosive hitter with good natural hip roll. He does a good job driving his feet and while he will get stalemated at times there are also many plays when he is able to get movement. He does a good job getting out to linebackers, taking good angles and showing the ability to adjust to a moving target. On the few plays I saw him pull he was effective.
He is best as a pass blocker. He sets quickly, has the lateral agility to stop wide speed and has the recovery quickness to stop counter moves. He can move his feet, has a good base and consistently keeps his back straight. He has good hand use with a solid punch and you almost never see him windup exposing his chest to opponents. Like most Boston College linemen over the years, he has been well coached.
Overall, Castonzo is one of the better tackles in the draft. He plays a steady consistent game and doesn't have a lot of flaws. He needs to get a little bigger and still has to improve his lower body strength and bulk. I feel that USC's Tyron Smith is the number one tackle but Castonzo may be number two.
Will Rackley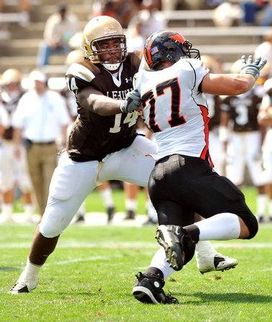 Will Rackley started his final 40 games at Lehigh.
To put it simply, Rackley dominates at a lower level of competition. He is just bigger and stronger than anyone he plays against in the Patriot League. When you scout players like this the first question you ask is if he can perform against players from a higher level of competition. Rackley showed he could at the practices of the East-West Game. He had an impressive week of practice and played well in the game.
He is a big but not tall man at 6-3 and 309 pounds with impressive play strength. He played left tackle for Lehigh. He is a dominant run blocker who can be very physical and shows a mean streak. He has impressive leg drive and if he gets a chance to put his opponent on the ground he will. He doesn't pull that often but when he does, he shows that he doesn't have great speed but can adjust on the move and is an explosive hitter. As a pass blocker he shows a very strong punch, can mirror opponents and anchors well, playing with good bend. In the Villanova game, they were lining up linebackers very wide and blitzing off the edge. Rackley had some trouble with these smaller but fast guys. He didn't have the lateral quickness to stop the wide speed and also had some trouble when the linebackers used counter moves and came back across his face. Except for that game he was dominant as a pass blocker.
At the Combine, he did not run and his jumps and agility drills were below average. At his pro day, he ran 5.39 with the wind and 5.50 against the wind. He improved his vertical jump and 20-yard shuttle but had a slower time with the 3-cone drill. At both the Combine and his pro day his position drills were impressive. On tape he looks to be more agile than the numbers show and he has excellent balance.
Overall, this is an interesting prospect because he was so dominant on game tape and did well at the East-West Game. Still you cannot discount his workout numbers. He played tackle in college but will be a guard in the NFL, as he doesn't have the height or athletic range to play outside at the next level. At guard, where he will have help on both sides, his athletic limitations will not be that much of a problem. He has the talent to become a starting guard in the NFL, he may even be able to play center. He has the natural power that teams look for inside and with coaching and experience can become an inside force.
Brad Biggs
Yesterday, Brad Biggs wrote a post on Ryan Mallett. Since then he has taken considerable criticism. I have known Brad for 10 years. He not only writes for the NFP but he is the Bears beat writer for the Chicago Tribune, one of the most respected newspapers in the country. When I was the College Director in Chicago I didn't always appreciate his work because it was too good! He always found out things that were right on and that we as an organization didn't want in the press.
One thing I can say about Biggs is this: when he writes a story or has some "breaking news," you can go to the bank that it is 100 percent correct. He never publishes an article that isn't backed up by numerous impeccable sources. In the case of yesterday's article I can assure you that was also the case and the story is 100 percent correct.