April 17, 2011 -
Greg Gabriel
Breaking down Ben Ijalana and Stefan Wisniewski
The state of Pennsylvania brings us two very interesting offensive line prospects this year. They are Ben Ijalana of FCS Villanova and guard/center Stefan Wisniewski of Penn State. Both of these players played a lot of football for their schools the last four years and should be high picks in the draft. Let's break both down.
Ben Ijalana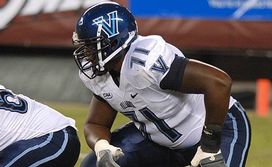 ICONBen Ijalana started 53 straight games at Villanova.
Ijalana has been a four-year starter at left tackle for Villanova. He has started 53 straight games which is a testament to his durability and toughness. This past season he played the last half of the year with a bilateral sports hernia which was painful and limited his mobility but still showed his toughness. He was invited to play in the Senior Bowl this past January but had to turn it down to have the injury repaired. He was unable to work out at the combine and is just now rounding into playing shape. Not being able to play in the Senior Bowl hurt him in eyes of some evaluators because they didn't get a chance to see him play against top competition. But if the number of visits and private workouts he has had in the last few weeks is any indication then his stock is back on the rise.
Ijalana is a bit short for a tackle at 6-3 but he has extremely long arms (36") that enables him to play like a 6-5 guy. He has good bulk (317 lbs) and plays with strength and power. He dominated against FCS competition, making things look easy. He played in a spread offense and from a 2- and 3-point stance. He has good snap reaction and in the run game gets to his block with very good quickness. He is strong and powerful and is consistently able to get movement or put his opponent on the ground. He has drive in his legs and shows good sustain. He gets to the second level easily and can adjust to his target. I like the nasty attitude he plays with. In pass protection he sets quickly and has quick hands and does a good job keeping his hands inside. He has a strong punch and I have seen him jolt opponents. In the tape I saw from early in the year he played with better bend than he did after his injury but still in all games he had very good ability to anchor. He is athletic with quick feet and good ability to slide and recover. He can get a little lazy with his technique but it had no effect on his play versus FCS competition.
Overall this is a very talented player but still a bit raw. It would have been nice to see him play at the Senior Bowl but still the talent is obvious. Some people think he should move inside because of his height but I don't agree. With his quickness and long arms he should have no problem playing at tackle. He easily has the athleticism to play left tackle. He will need some time and coaching but will be a starter in short time. He is a very solid second-round pick who may slide to the bottom part of the first. Some team is going to buy itself a good player!
Stefan Wisniewski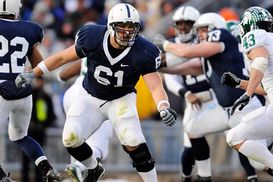 Stefan Wisniewski was a three-year starter at Penn State.
When Wisniewski came out of high school there was no question he was going to Penn State. His father started there as a defensive lineman and later played for the Colts and his uncle was Steve Wisniewski, the great former Raiders guard who was also a Penn State alum. With both his dad and uncle being former NFL players you know he came from good football bloodlines. As a true freshman he played as a backup and then became a three-year starter. He played 2008 and 2010 at right guard and 2009 at center. He has been a very durable performer by not missing any games because of injury the last three years.
He is not the smoothest athlete you will ever see but he is plenty good enough and is very efficient. He has good size at 6-3 and 313 pounds and his numbers in all the drills at the Combine compare very favorably with Mike Pouncey. In the run game he has excellent initial quickness. He is a strong and explosive run blocker and very technically sound. Once he gets his hands on an opponent it's all over. He has excellent sustain. With his power he gets movement and he doesn't stop until the whistle blows. Penn State pulls their guards more than most teams and he is a good space player and is consistent adjusting on the move. He is very similar in the screen game, getting to his blocks on the perimeter without a problem. In pass protection he gets out of his stance quickly and gets his hands on his opponent almost instantly. He has a good punch and locks on. He plays with good knee bend and keeps his back straight and never gives ground to bull rushers. He has real good mirror ability showing the agility to stay with opponents versus counter moves. He is an alert player and does a good job picking up stunts and blitzes and consistently looks to help out when free.
Overall, Wisniewski will be a starter early in his career. His experience at both guard and center give him a lot of versatility. He has good technique, plays the game with a passion and does not make mistakes. Like Ijalana he has made plenty of visits and had numerous private workouts. I'm hearing that he should be a sure second-round pick. This is the type of player you want on your roster!