August 03, 2013 -
Greg Gabriel
Breaking down Bridgewater
With only one quarterback being drafted in the first round of last April's NFL Draft, it will be interesting to see how the top college quarterbacks play this fall. There are a number of good college QBs this year but how high they are rated by NFL scouts remains to be seen.
Going into the 2013 season the names we hear most are Johnny Manziel of Texas A&M, Teddy Bridgewater of Louisville, AJ McCarron of Alabama, Aaron Murray of Georgia and David Fales of San Jose State. Today we will break down Bridgewater.
Like Manziel, Bridgewater is an underclassman who may enter the draft early. He is a 3rd-year junior and started as both a freshman and sophomore. In high school the Miami Northwestern product was rated as a 4-star player. He had offers from the likes of Florida, LSU, Miami and Tennessee. He chose Louisville and became a starter his first year.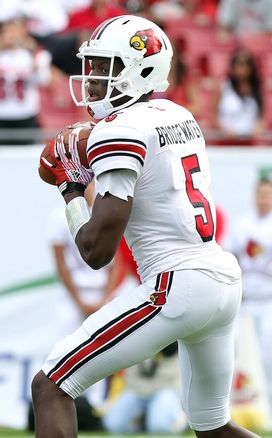 US PRESSWIRETeddy Bridgewater is tough and competitive.
His numbers as a freshman were average but he showed big-play ability. He completed 191 of 296 passes for 2,129 yards. He threw 14 touchdown passes and 12 interceptions while leading Louisville to a 7-6 record. In 2012 he showed great improvement. He completed 287 of 419 passes for 3,718 yards. His completion percentage was 68.5% and he threw 27 TDs to only 8 interceptions. Louisville's record improved to 11-2 including a big win vs. Florida in the Sugar Bowl.
Louisville plays in a multi-set offense with Bridgewater playing from both under center and in the spread. Bridgewater is a tall, lean athlete with very good athleticism and good play speed. He looks like he runs in the 4.65 range. He has very long arms which leads to a bit of a long delivery. When playing from under center, he sets up quickly. He has quick feet and shows excellent maneuverability in the pocket. He has a very good feel for pass rushers and does a nice job stepping up in the pocket. His athleticism allows him to keep plays alive and when a throw isn't there he will run showing good run skills.
Bridgewater shows poise and has very good ability to read the field and find an open receiver. You can consistently see him going through a progression and has to read the whole field. Like I said above, he has a bit of a long delivery with a small hitch at the top of his release. Still, he can get the ball out of his hand fairly quickly. He throws a tight ball and has excellent arm strength. His accuracy is very good to go along with good ball placement. At Louisville he has some large windows in which to complete passes and at times he has a completion where the ball placement could be better. He doesn't force throws and is a good decision maker. He can make all the throws an NFL QB needs to make.
I like his toughness and competitiveness. He makes big plays when they are needed. In the Rutgers game he was playing with an injured left wrist and ankle yet still brought Louisville back from behind in the 4th quarter and a big road win.
As good as Bridgewater was in 2012, I expect him to be much improved in 2013. The more playing time he gets the better he will be. He is still very young and won't turn 21 until November. If he enters the draft he should easily be a first-round pick next year and depending on his play, maybe a Top 5 or Top 3 type. At 6-3 and 195 he looks to have the frame to fill out to 215-220. While he does not have the size of Cam Newton, he possesses some similar attributes.
This player has a chance to be a very good NFL player. At the end of the season we will take another look and see just how much he has improved.