October 03, 2014 -
Greg Gabriel
Breaking down Bridgewater's first start
I waited until Friday to write this because I was hoping that Bridgewater would be able to play in Thursday night's divisional showdown at Green Bay, which would have given me the opportunity to break down the rookie quarterback's first two NFL starts. Looking at the way Green Bay beat up on Minnesota, the Vikings certainly could have used Teddy.
When I reviewed the Atlanta-Minnesota tape from Week 4, I didn't have to be a lifelong scout to see how outstanding Bridgewater played. I don't think the game could have been scripted any better. Teddy played a flawless game except for spraining his ankle early in the fourth quarter.
When comparing Bridgewater's first start to that of Jacksonville rookie Blake Bortles, it isn't even close. Bridgewater played a far superior game.
First half
Bridgewater was as successful as any rookie quarterback ever during his first two series. The first drive was an eight-play, 73-yard drive with Bridgewater completing all four of his passes for a total of 61 yards. Three of the four passes were bubble screens, with the fourth being a short swing pass.
This was an example of excellent play-calling from offensive coordinator Norv Turner, as he called plays that didn't put pressure on Bridgewater. Credit has to go to the Viking receivers who did an excellent job after the catch.
The second Minnesota drive was a five-play, 53-yard drive with Bridgewater going 2/2. The big play was a great throw between two defenders on a slant. The pass portion of the play was only about 11 yards, but receiver Greg Jennings took the ball another 18 yards with his run skills. Bridgewater also completed an eight-yard pass to a check-down receiver.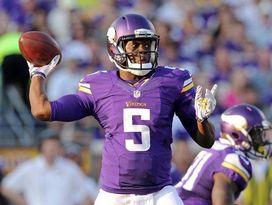 Bridgewater looked extremely composed during his first career start against the Falcons in Week 4.
In those first two drives, Bridgewater completed all six passes for 98 yards. Except for the slant pass, all the throws were safe. Still, Bridgewater looked very poised and was in total command of the huddle.
On the next drive, Bridgewater threw his first incompletion when he didn't put any touch on a check-down throw. The Vikings got no points out of the drive as the field goal try was missed.
The next drive ended with another Vikings touchdown. On this drive, Bridewater went 2/2 for 41 yards. The first throw was on a deep out to the tight end and the second was a deep crossing route. The total drive was nine plays for 80 yards with Bridgewater getting the touchdown on a scramble to his left for 13 yards. When pressure came up the middle, the rookie saw the opening to the left and took off.
On Minnesota's last drive of the half, the Vikings started out just trying to run out the clock. They started the drive on their own 15-yard line with only 1:25 left in the quarter. Minnesota ran on the first two plays, but Atlanta called time out after each snap. With the runs picking up a total of 10 yards, the Vikings decided to try and get into scoring position.
Bridgewater missed his first pass of the drive when he was wide on a crossing route, but came back to complete his next three throws for a total of 61 yards. Two of the throws (a deep crossing route and a deep hitch) were excellent tosses with Bridgewater finding the open receiver quickly and then getting the ball out of his hands quickly. He showed very good arm strength and accuracy on each throw.
That final drive ended with a Minnesota field goal giving the Vikings a 24-14 lead at the half. Bridgewater's first half stats were 11 completions in 16 attempts for 197 yards.
Second half
The Vikings' first possession of the second half ended with a Minnesota field goal. On the drive, Teddy went 2/2 for a total of 17 yards. He also scrambled for 10 yards showing a very good feel for the inside pass rush.
Following the field goal, Atlanta came back with a nice touchdown drive of their own. That made the score 27-21 Minnesota. After the ensuing kickoff, Minnesota held the ball for 10 plays but notched just 29 yards with Bridgewater going 4/7 for 33 yards. Penalties hurt Minnesota on that drive and they couldn't get anything going.
Atlanta came right back to score on their following possession, giving the Falcons a 28-27 lead. This meant that Bridgewater would now have to come from behind in his first real test as a starter.
When Minnesota got the ball back they went three-and-out with Bridgewater throwing two incompletions. He first was a throw away and the second he was long on a fly route down the left sideline.
Atlanta followed with a three-and-out of their own and then the Vikings got the ball at their own 22 with 14:41 left in the game. As good as Bridgewater had played earlier in the game, this was the drive that could determine victory or defeat.
Bridgewater came through, completing 3/4 passes for 59 yards. Two of those completions were excellent throws. One was on a deep out where Bridgewater showed excellent timing and arm strength and the other was on a dig route where the rookie exhibited very good ball placement.
The drive ended up being a nine-play 78-yard drive with running back Matt Asiata getting the touchdown on a one-yard run. On the play before the touchdown, Bridgewater tried a run that came up short. On the play, he twisted his ankle, an injury that kept him out of the rest of the game as well as Thursday night's showdown at Green Bay.
All told, Bridgewater was very impressive in his debut. He may have had just two bad throws all day. He was poised and in total control throughout. He showed he could go through a progression and make the right decisions. Bridgewater's accuracy and ball placement were very good and he consistently threw a tight ball with good velocity. You couldn't ask for a better way to start an NFL career.
Follow Greg on Twitter: @greggabe