April 19, 2011 -
Greg Gabriel
Breaking down Christian Ponder
One of the more interesting names in next week's draft is quarterback Christian Ponder of Florida State. Some scouts have told me they feel he is a first-round quarterback and others have said they wouldn't take him before the fourth. With that being said, I decided to look at some tape and form my own opinion. I was able to watch four tapes (against Oklahoma, Boston College, Maryland and Wake Forest) plus I saw the Senior Bowl practices and tape.
Ponder is a fifth-year senior who was a three-star recruit offered by programs such as Georgia Tech, North Carolina State, Arizona and Oklahoma State. His dad played at Florida State and there was pretty much no doubt that's where he was going. He redshirted in '06, got limited playing time in '07 and has been a starter the last three seasons. He has adequate size at 6-2 and 229 pounds and is very athletic with speed (4.64) and excellent body control. He has good arm strength and good throwing mechanics. He holds the ball high and has a quick release.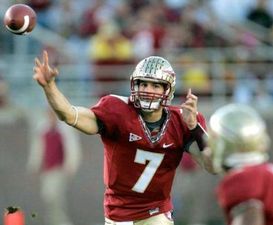 Christian Ponder is a tough QB, but he has battled health issues in his career.
One of his problems has been durability. He missed two games this past year (Clemson and Virginia Tech) and played just over a quarter in their bowl game versus South Carolina. In 2009 he missed the last four games after separating a shoulder and having surgery. Still, he is considered a tough kid who is very smart and a good leader. One thing a scout told me was that in practice he looks like a future All-Pro but doesn't carry that over to game day. After watching tape, I tend to agree. In the four games I viewed he completed 70 of 122 passes for 696 yards, 5 touchdowns and 6 interceptions — hardly big numbers. In the Boston College game he threw 3 interceptions, one of which was returned for a touchdown. He had another pick in that game that was also returned for a TD but it was called back because of a penalty.
Looking at his mechanics, I don't see any problems. He played in a multi offense, taking snaps from both under center and in the spread. He has very good ability to drop back, set his feet and throw. In the Florida State offense he had to read the whole field and he did a good job going through a progression. He has a compact overhand delivery and can get the ball out of his hand quickly. He is patient in the pocket while going through his progressions. I feel that he is not a quick decision maker and also made some questionable decisions. He doesn't "see it and throw it." He sees it, waits and then throws it. Because of this he gives the defense time to recover and then ends up throwing into coverage and turning the ball over. While he may have made the right decision on who to throw to, his hesitation made it a poor decision. The question is, "Does he have confidence in the decisions he makes?"
He has good arm strength and can make all the throws needed to be an NFL quarterback. He throws a tight ball that is very catchable. He has good but not outstanding accuracy. He has a career 62 percent completion rate with his best year being 2009 when he completed better than 68 percent of his passes. This past year his percentage fell to 61 percent. His ball placement is good.
I like his mobility; he has quick feet, has a good feel for pass rushers and can keep plays alive with his feet. With his speed and run skills he can make things happen when he decides to run. He also shows good ability to throw on the run.
Overall, Ponder has a lot of tools to work with. He knows and understands the game and has good work habits. He is still a work in progress and has to improve on his decision making. I think it is confidence more than anything else. I would not take him in the first round but if I was with a team that had a quarterback need I would give him consideration in the second round (but I would rather take him in the third).
I think most of the quarterbacks in this draft have been overrated. There has been talk that as many as four quarterbacks could be taken in the first round, but I hardly feel there are four first-round players. The most talented but also one of the rawest is Cam Newton. He is a great competitor and makes things happen on game day, but he has character concerns. The others all have flaws and do you take quarterbacks with flaws that high? Just because they may be the best of an average group, does that mean they deserve to go that high? One head coach who is a highly respected quarterback guru has said that all of this year's quarterbacks are at least two to three years away from starting. That doesn't mean they won't start, but are they really ready? We won't know the real answer until three years from now.