August 01, 2013 -
Greg Gabriel
Breaking down Clowney
One of the best things about writing scouting reports is when you get a chance to write up a dominant player.
There are days after you have made a school call that you struggle to find the words to describe a player -- that is not the case with Jadeveon Clowney.
Most of you who read this don't need me to tell you that Clowney is great. How great is he? Well, I've been doing this since 1981, and he is as good a defensive player as I have ever watched.
In the 1984 season, Bruce Smith, who became the No. 1 pick in the 1985 NFL Draft, was dominant but not nearly as dominant as Clowney. Smith would take some plays off and played 15-20 pounds heavy that season. I don't think I have seen Clowney take a play off. I did not get a chance to scout Lawrence Taylor, but I worked for the Giants for most of his career and I would have to say that if Clowney reminds me of anyone it's Taylor.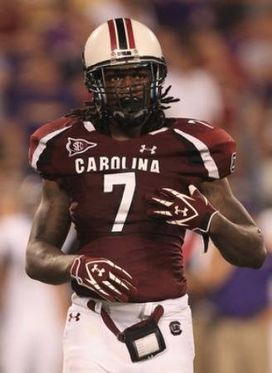 Jadeveon Clowney has similar traits to that of Lawrence Taylor.
Yes, Taylor played on his feet all the time as a 3-4 outside linebacker, but they are similar athletes and play with the same reckless abandon.
In the tapes I have seen, Clowney almost always lines up at right end. He gets low in his stance and has as quick a first step as I have ever seen. He is very explosive out of his stance and often is by his opponent before he can get set. For such a young player (2012 was only his second year of college ball) he has excellent hand use. He keeps his arms extended and seldom lets a blocker get into his body.
His hands are very quick and he shows a variety of hand moves. To go along with that he has rare athleticism for a tall guy. Clowney is in the 6-5 to 6-6 range and last year looked to have a playing weight of about 255 to 260. He has almost instant change of direction and excellent balance and body control. He is a natural knee bender and is always in good football position. His play speed is in the 4.5's with an exceptional burst.
What really stands out about his play is that he plays with an attitude. He is nasty on the field but not dirty. Just very physical. Like Taylor was able to do, when a play needs to be made Clowney can make it. He is very hard to block and at times blockers can't get a hand on him.
He is best as a pass rusher where he comes off the edge, which is as good as any player I have ever seen. He has a natural dip to him that allows him to get under his opponent and slip by. He shows a variety of counter moves and he makes them look easy to perform. While he is not a huge man by defensive end standards he still is an explosive bull rusher. When he gets into the blocker's chest he shows the ability to drive him back into the pocket. This is a very powerful man!
Many top pass rushers are not great run stoppers. That is not the case with Clowney. He has very good instincts and finds the ball quickly. Like in the pass game, he can get rid of run blocks quickly and make the play. With his speed and relentlessness he is an excellent pursuit player and catches many plays from behind.
Overall, the scary thing is Clowney is still developing. He is going to keep getting bigger, stronger and better. There is no telling how good he can be if he wants it. He is the odds-on favorite to be the No. 1 pick in next spring's draft if he remains injury free. The only thing that could change that is if a quarterback emerges this fall that could challenge Clowney's status.
With the athleticism Clowney has he can play as a 4-3 end or be a 3-4 OLB. With the way the game is played today if he is drafted by a 3-4 team he is still going to be playing out of a 3-point stance most of the time anyway. It will be fun watching him play this fall. It will also be fun to see how SEC offensive coordinators try and defend him.