March 31, 2011 -
Greg Gabriel
Breaking down Corey Liuget and Aldon Smith
When underclassmen enter the draft it's hard to get a fix on them because many times you're starting your film evaluation a little later than with a senior. Once these players get proper evaluation and go through the Combine and workout process you start to hear what kind of "buzz" they are getting. Two such players are defensive end Aldon Smith of Missouri and defensive tackle Corey Liuget of Illinois. In the last few weeks I've been hearing that the consensus is these guys are moving up the ladder. Smith could very well go in the top 15 and Liuget somewhere between 20–25. Let's take a close look at both.
Corey Liuget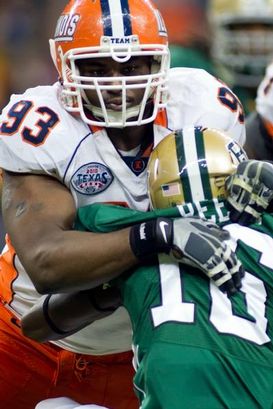 ICONCorey Liuget finished 2010 with 12.5 tackles for loss and 4.5 sacks.
The more tape I watched on this player the more I liked him. He is a very interesting prospect with the arrow going up. He is a true third-year junior and only 21 years old. He was a 4-star recruit from the Miami area. Programs such as Georgia, LSU, Miami and Florida St. also offered him. He played as a backup in both 2008 and 2009 with a total of six starts in those two years. Though a backup he was still getting a lot of playing time in the defensive line rotation. He had a breakout year in 2010 with 63 total tackles including 12.5 tackles for loss and 4.5 sacks.
He played both as a 5-technique defensive end and nose tackle in their base 3-4 defense. When Illinois went to their sub package (4 defensive linemen) he would line up as a defensive tackle. Liuget lacks ideal height at 6-2 but he is a solid 298 pounds with the frame to get to 310 easily. He is a wide body with long arms, great balance and very good play strength. He is a good athlete who is more quick than fast and runs in the 5.0 area. I love his competitive attitude on the field. He has a nonstop motor, is very physical, is always on his feet and you see him chase the ball harder all over the field.
He has very good initial quickness and consistently gets penetration. He is aware and instinctive and is very quick to find the ball. He has very good hand use and does a good job keeping blockers off his body. He can shed quickly and makes plays. Because of his consistent penetration he disrupts a lot of plays. He is a good inside pass rusher mainly because he gets off the ball quickly but he also has a great "feel" when rushing the passer. He has a knack for finding openings and bursting through. He may not get a lot of sacks (4.5) but he gets a lot of pressures and hits and he also does a good job getting his hands up and knocking down balls at the line of scrimmage.
Overall, I feel Liuget has some versatility to play in different schemes. He can be a defensive end or a nose in many 3-4 schemes. He fits what teams like Green Bay use on their defensive line. He can also play nose in many of the 4-3 defenses. The player he reminds me of is the Bears starting nose tackle Anthony Adams. He has more size then Adams but plays a similar type game with an all-out motor. Being so young there is still a lot of upside and he has been very durable. There would be a lot of teams happy to have this guy come draft day.
Aldon Smith
Smith entered the draft with still two years of eligibility left. He was recruited in 2008 as a 3-star defensive end. Many of the top Big 12 schools offered him. He was undersized as a freshman in '08 and was redshirted. After a year in the weight room he added bulk and strength and started 11 games in 2009 putting up some excellent stats including 11.5 sacks and 19 tackles for loss. This past season, he missed 3 games in midseason due to injury yet still had 5.5 sacks and 10 tackles for loss. In watching film it was obvious that teams game-planned for him somewhat in 2010.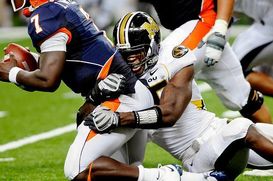 Aldon Smith had 5.5 sacks and 10 tackles for loss last season despite battling an injury.
Smith has excellent defensive size at 6-4 and 263 pounds with 34-inch arms. He runs well (4.85) and is very explosive. His bench numbers are still very average (20 reps) but he has the frame to get bigger and stronger. He is an explosive athlete who plays much faster than he timed. He plays like a 4.65 type and has smooth change of direction, body control and flexibility.
He is best as a pass rusher and comes off the ball very quickly with an explosive first step. He stays low and he has a knack for slithering through blockers to find his way to the quarterback. He has quick hands and good hand use and does a good job keeping blockers off his body. While his sack numbers were down from 2009 this season he still had a lot of pressures and hits.
He needs improvement in the run game. He plays the run away from him very well showing excellent pursuit skills. This is where you see his playing speed. I have seen him a number of times make plays in pursuit and catch backs from behind. He has a strong motor and plays hard. He can struggle somewhat at the point of attack. He gets tall and lacks the bulk and strength to consistently hold up when teams run at him. Being so young this is not a big concern to me as he will get bigger and stronger.
Overall, Smith has the trait teams covet — pass rush skills! He has the tools to be a very good NFL pass rusher. He is an excellent fit to play right end in a 4-3 and if the 3-4 clubs feel he can drop into coverage they will be high on him also. He reminds some of Dallas Cowboy DeMarcus Ware with similar size and athleticism.