March 22, 2011 -
Greg Gabriel
Breaking down Hankerson and Sherrod
This year, defense is going to dominate the early part of the draft, especially defensive linemen. Still, there will be a good number of offensive linemen and wide receivers going in the first round. Two players who could very well fit into the bottom third of the first round are receiver Leonard Hankerson of Miami and offensive tackle Derek Sherrod of Mississippi State. Let's take a look at both.
Leonard Hankerson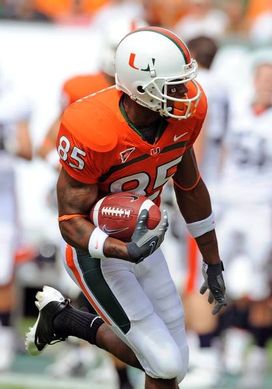 ICONLeonard Hankerson broke out last season, catching 72 passes for 1,156 yards and 13 touchdowns.
Hankerson was a highly recruited receiver from the Ft. Lauderdale area. Rivals.com had him as a 3-star recruit and Scout.com as a 4-star player. He played as a reserve his first and second years before becoming a starter and Miami's go-to receiver his final two seasons. Last year was his breakout season with 72 catches for 1,156 yards and 13 touchdowns. He followed that up with strong Senior Bowl and combine performances.
Hankerson has very good size for a receiver, as he measured 6-1 and 209 pounds at the combine and ran a 4.44. When watching tape of him I thought he was going to be a 4.55 type, as he is a long strider who doesn't have a real explosive burst. Still, he is very smooth with good flexibility. He breaks down well and gets in and out of cuts quickly. Hankerson has long arms and huge hands (10 5/8) and plays taller than his size because he is so long. While he has some concentration drops, he has very good hands and shows the ability to pluck the ball. He does an excellent job of adjusting to the ball in the air and making difficult catches. He shows good courage and will go inside to compete for the ball in traffic.
This past season he played in the slot much of the time and had to run a lot of underneath routes. He runs good routes and uses his body control and flexibility to get separation. He is quick off the line of scrimmage and does a good job escaping jams. He gets open both by using moves and a change of pace. He can uncover versus both man and zone and does a good job reading coverages. While he is very good with the short and medium routes he is also an effective deep receiver. He is good at tracking the deep ball. As a runner after the catch, he is not overly elusive but he uses his speed well and has strength.
Overall, because of his size and route running ability, Hankerson has the skill set to eventually become a No. 1 receiver in most NFL offenses. Like most receivers coming out of college he is going to need some developmental time but he has excellent upside.
Derek Sherrod
Sherrod is a 4th year senior. Coming out of high school he was a 4-star player who was recruited by most of the SEC schools as well as Notre Dame and Michigan. He was a three-year starter for the Bulldogs at left tackle. He has excellent size for an NFL tackle measuring 6-5 and 321 pounds with very long arms (35 3/8) and huge hands (11). He runs well for a big guy (5.24) and has very good balance to go along with good overall athleticism. He has good bend and is quick to change direction.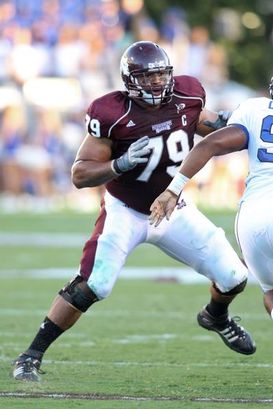 ICONDerek Sherrod has the traits to play on the left side.
He plays out of both a 2-point and 3-point stance with good snap reaction and initial quickness. He is a consistently good run blocker who shows the power to get movement and the athleticism to get to the second level. He has some nasty in his play and I like the way he runs his feet and looks to finish blocks. In pass protection, he sets quickly and shows good lateral agility. He moves his feet well, stays in balance and can recover versus counter moves. He can get tall at times but that is more because he can get lazy with his technique than not being able to bend. I have seen enough plays where he has very good knee bend and anchor ability. He plays with a good base and you seldom see him give ground versus bull rushes. His hand use is good, he shows he can have a compact punch, but you do see him windup at times. He generally does a good job of keeping his hands inside.
Overall, Sherrod will eventually become a winning left tackle in the league. Some teams may start him off on the right side while he gains experience but he has the traits to play on the left side. The more tape I watched of this player the more I liked him. He has range and athleticism to go along with long arms…all traits needed to become an effective left tackle in the league.