April 24, 2011 -
Greg Gabriel
Breaking down Jake Locker
After the 2009 college football season, many of the "experts" felt that Jake Locker would have been a top 5 pick in the 2010 NFL Draft if he had come out. Because he stayed in, these same people felt that Locker was the odds-on favorite to be the top pick in this year's draft. The problem with the "experts" is they don't spend the necessary time to break down tape and look for the strong and weak points. If they had looked at 2009 tape they would have found that many of the same faults that Locker showed in 2010 were there in 2009.
In the 2009 season from a statistical viewpoint, Locker had his "best" season but it was hardly great. He completed 230 of 395 passes for 2,800 yards and a 58 percent completion percentage. He also threw 21 touchdowns and 11 interceptions. The one stat that you don't always see in the stat line was he was also sacked 28 times. This past season his stats were not nearly as good. He completed 184 of 332 passes for 2,265 yards and a 55.5 percent completion percentage. He threw 17 touchdowns and 9 interceptions and was sacked 19 times. Locker has never been considered a very accurate passer, and his career 54 percent completion rate proves that.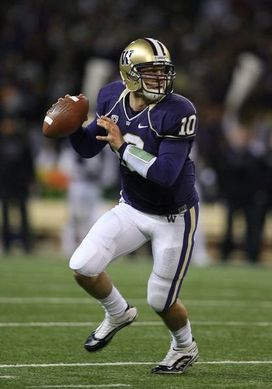 ICONJake Locker certainly isn't known for his accuracy throwing the football.
When you look at Locker, one thing is clear — he is a superb athlete. He has good size at 6-2 and 231 pounds with great speed (4.55). He was a multi-sport star in high school and was drafted to play Major League Baseball. He is a very tough kid and a strong leader; these are all things that you want an NFL quarterback to have. He has good arm strength and shows he can throw a tight ball, but he does not spin it with consistency. His mechanics can change from throw to throw.
I felt I got a good look at Locker on tape. I saw four 2010 games (UCLA, both Nebraska games and Arizona). From the 2009 season I saw two tapes (Notre Dame and Stanford) and I saw him in three days of practice at the Senior Bowl. There are two things that stand out to me when watching Locker — he lacks top instincts and accuracy. These are two traits that are extremely important in becoming an NFL quarterback, and they are also two traits that can be very difficult for a player to develop if he doesn't already have them. Instincts are an innate trait; you either have them or you don't. Yes, practice and playing time can help improve a player's instincts because of familiarization to the scheme, but having the natural innate trait is always better. The number of sacks Locker takes can be directly tied to his lack of top instincts. Accuracy problems can be a timing or technique issue. It can be improved with coaching and practice, but in all the years I have been doing this I have never seen a quarterback who had accuracy problems in college improve that much if at all when he got to the NFL.
There are many things I like about Locker's game. With his speed and athleticism he can keep plays alive and he does show the ability to create when a play breaks down. You just don't see it enough. He has excellent run skills and is very tough. He has a strong arm and he flashes the ability to make all the throws needed to succeed. He is an excellent leader both on the field and in the locker room. He can inspire the players around him. What you don't see is him making enough key plays for his team to be a consistent winner. While he flashes making a big play, you don't see enough plays being made back to back to back.
At the Senior Bowl practices, it was more of the same. He flashed but overall he was indecisive with his reads. He just didn't trust what he was seeing and would be late getting the ball out of his hand. This caused accuracy problems and also gave defenders time to make plays. Overall, Locker is going to need a lot of time and good coaching. Because of his football character, I would never want to bet against him but he is a long ways away from being a starting NFL quarterback. He will do whatever it takes to improve, but I'm not sure his lack of natural instincts will ever be able to be overcome. Needless to say I would never draft him in the first round. Because of his intangibles I might want to take a chance in the third if I really had a need at the position.
Final thought on the quarterbacks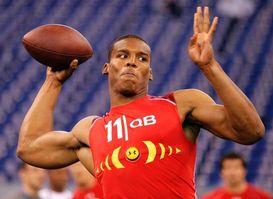 Cam Newton is the top QB on the draft board for many teams.
In the last few weeks, between conversations I have had with scouts and with articles I have read, I hear that as many as 4 to 5 quarterbacks could be taken in the first round. First off, I don't buy what I'm reading and hearing. I feel that many teams in the bottom half of the first round are pushing for quarterbacks to get drafted so that they have more of a choice at other positional players when it's their turn to pick. Secondly there are many in the media who are not evaluators who are pushing for the QB's to be taken. If you recall, all the "experts" had Aaron Rodgers going in the top 5 of the draft…he went 24. The same "experts" also had Brady Quinn going in the top 10….he went at 22 and if Cleveland hadn't traded up to get him he may not have gone in the first.
I feel that there is only one legitimate first-round quarterback this year and that is Cam Newton. While he is far from a finished product he is a competitor and playmaker on the field. Personally I wouldn't draft him high in the first round because of his character concerns but I do understand his talent. I feel all the other quarterbacks that are mentioned as possible first-round players (Gabbert, Locker, Dalton, Ponder) are being vastly overrated. They all have flaws and aren't nearly as good as many first-round quarterbacks in the past. I have no problem taking these players in the second or third round because that's where they belong, but not in the first. If in fact this happens, I feel teams are manufacturing a player and it can lead to problems and they are also passing on a potentially better player. If these quarterbacks get overdrafted and taken in the first round, and turn out to be a poor pick, you could see some decision makers looking for new jobs in two to three years. Draft them where there talent says they should be drafted, don't panic and overrate them because of need.