January 27, 2014 -
Greg Gabriel
Breaking down Johnny Football
One of the most talked about college football players of the last decade has been Texas A&M star quarterback Johnny Manziel. During the 2012 season, Manziel won the Heisman Trophy after throwing for 3,706 yards and 26 touchdowns with a completion percentage of 68.0 percent. For an encore, Manziel improved in almost every statistical category in 2013, passing for 4,114 yards and 37 touchdowns with a completion percentage of 69.9 percent. Moving forward, the Manziel conversation will now border on whether or not the Texas A&M standout is worthy of a first round selection come May.
I have watched nine tapes of Manziel from the last two seasons, three from 2012 and six from 2013. My conclusion is that Johnny Football is one hell of a player. Manziel lacks ideal quarterback size to play in the NFL, as he is listed at 6'1 – 210, but I'm not sure that is accurate. If I had to estimate, I'd say Manziel will measure 6004 -205 at February's Combine. On tape, the dual-threat signal-caller looks as if he added 10-15 pounds between the 2012 and 2013 seasons. But that added weight cost him a bit of play speed. On 2012 tape I thought Manziel's play speed was at worst 4.50. But in 2013 he looked closer to 4.60.
But while Manziel may have lost a little speed, it's worth noting that he is still extremely quick and may have the quickest feet I have ever seen on a quarterback.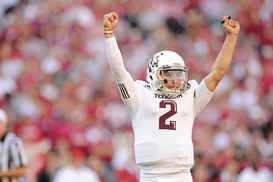 In 26 starts for the Aggies, Manziel amassed 2,169 yards and 30 touchdowns with his feet.
Manziel almost always lines up in the spread formation. There were only a handful of plays that I saw where he took a snap from under center. Texas A&M runs a read option offense and Manziel is excellent at running that particular scheme. He has a running back's mentality when it comes to carrying the football and he is very elusive in the open field. He uses that quickness and elusiveness to keep plays alive on passing downs and is excellent at finding an open receiver and throwing with accuracy on the run. When Manziel is able to stay in the pocket, he has an excellent feel for pass rushers and does a very good job stepping up before his throws. He has a very compact, quick release and when he makes a decision, the ball is out of his hand almost instantly.
While in the pocket, Manziel is calm and poised and shows he can go through a progression. He demonstrates the ability to look off a receiver and then come back to him and is also good at finding open secondary receivers. The one thing I really like about Manziel is his accuracy and ball placement. He has a number of completions where he threads the needle and can get the ball into a tight spot. For the most part, Manziel's decision making is very good and he rarely forces a ball. On the Manziel tape I viewed from 2013, I only saw two interceptions that I would consider poor throws. On each of those plays, Manziel was throwing on the run and failed to read the backside safety coming over. He had some interceptions where his receiver dropped the pass and the defender notched the INT before the ball hit the ground.
I wouldn't say that Manziel has a canon for an arm, but his arm strength is solid enough. He can throw a tight ball with zip and can easily complete passes 45 - 50 yards down field. What makes Manziel so dangerous and what defenses have to account for is his ability to run if the pass isn't there. Time after time the Aggies signal-caller opted to run, scrambling for ten or more yards.
Overall, Manziel is unique. He is not for everyone. The team that drafts him has to have a plan and play to his strengths. He is not nor will he ever be a conventional pro style drop back passer. While Manziel lacks ideal NFL quarterback size, there are top quarterbacks in the league that also possess less than ideal size. Drew Brees is list as being 6'0, but he isn't. Russell Wilson is under 5'11. If I had to compare Manziel to another NFL quarterback I would say he is part Wilson, part Brees and part Brett Favre. It obviously remains to be seen if he will have the success of those players.
Manziel's immaturity off the field is well documented and the team that drafts him has to be sure that he will buy into their program. The one thing I do know is that on game day, Manziel is as competitive a player as you will ever see. Scouts have told me that he has matured in the last year and his game preparation and leadership were much better in 2013 than in 2012. I think there is a lot of "special" to Manziel and he will be a very good NFL player. It would not surprise me to see him drafted in the top-five. He could very well be the first quarterback selected.
Follow Greg on Twitter: @greggabe