March 20, 2011 -
Greg Gabriel
Breaking down Jordan and Bowers
This year, unlike the last few years, there are many defensive linemen that are capable of playing multiple positions in either a 4-3 or a 3-4 defense. We have already talked about Nick Fairley and Marcell Dareus. Today, we will talk about Cam Jordan of Cal and Da'Quan Bowers of Clemson.
Cam Jordan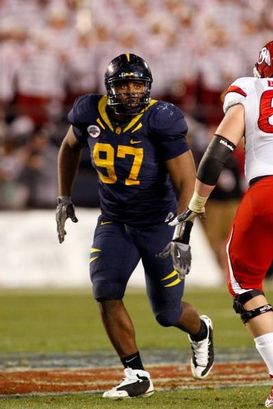 ICONCam Jordan displays an excellent closing burst to the ball and the quarterback.
Jordan is a 4th year senior from Chandler, Arizona. He was originally a 3-star recruit who was offered by many of the Pac-10 schools as well as Nebraska. He played in 50 games while at Cal with 32 starts. In 2010, he finished with 62 total tackles and 5.5 sacks and had a career total of 16.5 sacks.
Jordan started as a 5-technique defensive end in their base 3-4 defense but Cal really is a multiple-front scheme and he lined up in many different positions. In one game I looked at, he was lined up in a 2-point stance more than his hand was on the ground. After watching four games on tape and in the Senior Bowl, I can say that this in one fun player to watch. When scouting, every once in a while you come across players like this and you just want to keep watching more tape because they are so good. Jordan has a great motor and goes all out on every play. He can be physical or play with finesse. He just knows how to get the job done.
Jordan has excellent size and speed (6-4, 287, 4.75) to go along with long arms (35') and good strength (25 reps). He is athletic with quickness, flexibility and body control. He's a natural knee bender and plays with great leverage. He is very quick off the ball and uses his long arms to get separation and control blockers. He consistently gets penetration and plays with very good instincts and awareness. He is a very good run defender who is quick to find the ball. He can shed blocks quickly and is an excellent tackler. He is productive as a pass rusher either from the inside or the outside. He has an explosive first step and has the bend to get under blockers and keep his balance. You seldom if ever see him off his feet. He can use moves with his quick hands or play with power. He plays to his timed speed and he shows an excellent closing burst to the ball or quarterback.
Overall, Jordan can play for just about any defense in the league. In a 4-man front he can be either a left end or a 3-technique tackle; in a 3 front he would be a 5-technique defensive end. Because he has played on his feet in the past, some teams are working him out as an outside linebacker in a 3-4. He has the edge pass rush ability to excel at that position.
Da'Quan Bowers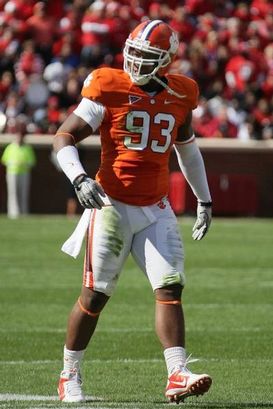 ICONHow will Da'Quan Bowers' medical reports affect his draft stock?
Bowers is a 3rd year junior who is entering the draft as an underclassman. He was a very highly recruited player coming out of high school. He was a 5-star recruit and all the major programs in the country offered him. He played in a rotational role as a freshman and sophomore and was the Tigers leading defensive player in 2010 with 15 sacks. He had 19 career sacks. I saw him play live four times during his freshman and sophomore years and you could easily see his outstanding ability. Most of his career he lined up outside as a defensive end but I have seen him lined up inside on a few plays.
He has good size (6-3, 280) to go along with good estimated play speed (4.75). Because of his knee injury he hasn't been officially timed yet. Though he only did 22 reps of 225, he plays with very good natural strength. He has good arm length (33.25) and uses his hands very well. In 2010 he lined up at both right and left defensive end. He has very quick snap reactions and a very quick first step. As a younger player I felt he would take some plays off but I didn't see that this year. He is a competitive player and because of his very good athleticism he makes things look easy. He's very strong at the point of attack and can easily shed blocks. He has cat like quickness getting to the ball. Like all top defensive players, he has very good instincts and makes a lot of plays. While he is a very good run defender, he is best as a pass rusher coming off the edge. He has a variety of moves and is excellent at dipping his shoulder and getting under his opponent. He shows excellent redirect skills and also has an excellent closing burst off blocks. Rushing the passer is not an easy task, yet he makes it look easy at times. As a run defender, he played with more discipline this year. He would freelance some in the past. Still, he slips blocks very well and makes a number of plays versus the run.
Overall, because of a knee injury, where Bowers gets drafted will largely be determined by his medical report. If everything is in working order he has the talent to be a top-5 pick. He would be best as a defensive end in a 4 front, but I can also see some of the teams who play a Tampa 2 type defense use him at the 3-technique. He has the size and power to play in a 3-4 scheme and because of his athleticism may even be able to play on his feet. This is a very interesting prospect.