April 12, 2011 -
Greg Gabriel
Breaking down Mark Ingram
Last week, I was watching the NFL Network and one of their draft analysts was talking about Mark Ingram. He said that while Ingram was a consistent back and might be a 1,000-plus yard producer in the NFL, he didn't see explosive big play ability or see him as a first-round pick. I can't help but disagree.
If you do a complete job scouting a player, you do more than one season's work. If there is a drop in production from one season to the next, a scout has to look at older tape and figure out why. In Ingram's case he had knee surgery last season and missed the first two games of 2010. I don't believe he was ever as healthy in 2010 as he was in 2009. Still, he ran for 875 yards in 11 games and averaged 5.5 yards per carry. He had a long run of 54 yards and scored 13 touchdowns. He also caught 21 passes for a 13.4 yard average, 3 TDs and a long play of 78 yards. Going back to 2009 when he was healthy the whole year, he ran for 1,658 yards for an average of 6.1 yards per carry, 17 TDs and a long run of 70 yards. He caught 32 passes for a 10.4 yard average, 3 touchdowns and a long play of 69 yards. Over the last two seasons, his longest runs and receptions were 4 scoring plays over 50 yards each!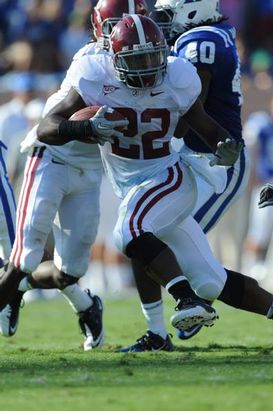 ICONMark Ingram has been compared to former Cowboys great Emmitt Smith.
To take this a little further, the NFL for statistical purposes designates a long play as any play over 20 yards. In 2009, Ingram had 21 plays of 20 yards or more — 17 runs and 4 pass receptions. He also averaged 156 yards per game against teams that were ranked in the top 25. In 2010, Ingram had 10 plays of 20 yards or longer (7 rush, 3 pass). Also, Ingram split time with sophomore Trent Richardson, who arguably will be a first-round running back when he decides to come out. The tandem gave Alabama the best pair of running backs in the nation.
Ingram is not a real big back at 5-9 and 215 pounds, but he has a very solid build and is strong. He did not run well at the Combine (4.62) but he came back to run in the 4.53 range at the Alabama pro day.
The player Ingram reminds me of is Emmitt Smith. They are about the same size and Ingram may be a bit faster. Smith ran in the high 4.6's when he came out of Florida, and as we all can attest to, speed was not a problem with Smith while in the NFL.
What Ingram has is great quickness. He has excellent initial quickness and gets to the hole extremely fast. His run instincts are superb and he seldom makes a bad decision. He has very quick feet and can make a defender miss in the hole or in the open field and is a very good cutback runner. He runs low and is explosive on contact. He is a consistent tackle breaker, and according to Alabama statistics gained 1,075 yards after contact in 2009. Though not a burner, once he gets in the open field, not many are going to catch him because he has an excellent burst.
He is a very reliable receiver with soft hands and the ability to adjust to poorly thrown balls. He turns up field quickly and consistently gets yards after the catch. He is a good route runner who can uncover versus man and zone. In the last two seasons he has caught 53 passes for 616 yards and 6 TDs with a long of 78 yards — outstanding numbers for a running back.
Another aspect of Ingram's game that is very good is his blocking. He does an excellent job picking up blitzes and is a consistent face up blocker who uses his hands well and shows pop and anchor.
Overall, I feel Ingram is a complete back. He is a powerful instinctive runner with exceptional quickness, is a reliable blocker and a very good receiver. He doesn't have the size or speed of an Adrian Peterson, but few do. As I said earlier he reminds me a lot of Emmitt Smith in terms of size, speed and style. He also possesses outstanding football character with a top work ethic and passion for the game. He should be the first back taken in this year's draft and will make some team very happy.