August 05, 2013 -
Greg Gabriel
Breaking down McCarron
In my opinion one of the better quarterbacks in this year's senior class is Alabama's AJ McCarron.
McCarron is a 5th-year senior and a three-year starter (this will be the third year) from Mobile, Alabama. What's even more important is that his record as a starter is 25-2 with two National Championships. The detractors will say that he plays on an Alabama roster that is loaded with stars so it's easy to win. That's true but he does an almost flawless job in leading his team.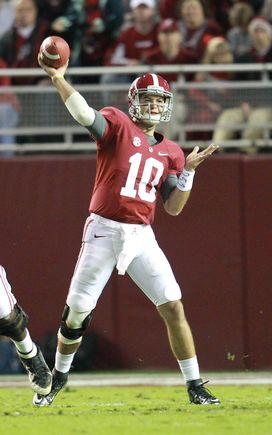 US PRESSWIREIn 27 games as a starter, McCarron has thrown only 8 interceptions.
Coming out of high school, McCarron was listed at 6-4 and 189 pounds. He was rated as a 4-star player and had offers from schools such as Auburn, Tennessee, Miami and Florida State as well as Alabama. He enrolled in 2009 and redshirted. He played as a backup in 2010 and completed 30 of 48 passes for 389 yards and 3 TDs. He became a starter in 2011 and completed 219 of 328 passes for 2,634 yards (66.8%), 16 touchdowns and 5 interceptions. In 2012 his stats improved to completing 211 of 314 passes (67.2%) for 2,933 yards with 30 touchdowns and 3 interceptions. In 27 games as a starter he has thrown only 8 interceptions, which is a remarkable number.
McCarron has a lean frame. He is listed at 214 pounds now but looks thin and narrow. He lacks good upper and lower body bulk and definition. Still, he has good arm strength and can throw the ball 55 yards easily. He is a good athlete with quick feet and I would estimate his speed as 4.7. McCarron has a compact overhand delivery and a quick release. While he has good arm strength, he doesn't throw a consistently tight ball. This is one area where he will need to improve. While not a great athlete, he is very aware, has a good feel for pass rushers and can keep plays alive with his feet. While he may not be a threat to take off and break a 50-yard run, he can scramble and get a first down.
What really stands out for me with McCarron is his understanding of the offense, his instincts and awareness and his ability to make plays when they are needed. He is very calm and poised and just doesn't make mistakes. He has great awareness in the pocket and easily can go through a progression. His ability to read defenses and make good decisions is as good as any quarterback in college football.
In order for a quarterback to be successful, he has to be a leader and has to be respected by his teammates and coaches. McCarron has those traits. He is totally in charge on the field.
Quarterbacks have to be accurate and McCarron is very accurate. His completion percentages over the last two seasons is 67%, but what's even more important is that his ball placement is almost flawless. He always puts the ball where it needs to be. His receivers never have to wait for the ball nor do they have to make acrobatic adjustments to make a catch. If he needs to get the ball into a tight spot he can do it. His ball handling and play-action skills are top notch.
Overall, there is not much not to like about McCarron. While he doesn't have the big arm that people love to see, he has everything else. He is a leader, a top decision maker and most important a leader. I have no doubt that because of the training he has gotten at Alabama, what we see now will carry over to the next level. It wouldn't surprise me to see him as a starter his rookie year. I wouldn't hesitate to draft him in the first round because I know he will make my team better and make it a winner.