April 26, 2011 -
Greg Gabriel
Breaking down Mikel Leshoure
One of the surprise early entrees in this week's NFL Draft is Illinois running back Mikel Leshoure. Leshoure, a true third-year junior, was not a fulltime starter until this past season. He did put up excellent numbers, gaining 1,697 yards on 281 carries for a 6.0 yards per carry average, 17 touchdowns and a long run of 70 yards. He also caught 17 passes for 196 years.
Leshoure is a local kid from Illinois who was a 3-star recruit out of high school. He had a fairly impressive offers list with the likes of Boston College, Wisconsin, Missouri and Kansas offering him. He played as a backup in 2008, split time in 2009 but was still Illinois' leading rusher and of course had the breakout campaign this past season.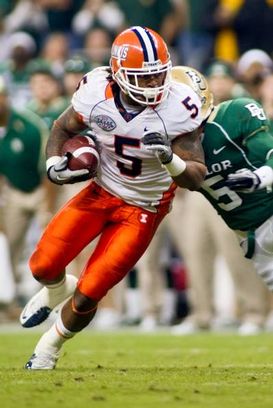 ICONMikel Leshoure rushed for 1,697 yards and 17 scores last season.
He has excellent NFL running back size at 5-11 and 227 pounds. He has a great frame and plays with strength. He did not run well at the Combine, clocking 4.57 on his first 40 and 4.63 on his second try, but he does play much faster than he times. His play speed is about 4.55. While he lacks great top-end speed, he has an excellent burst and can stop and go very quickly. He played in a multi offense, and has good initial quickness with no false step. He runs with excellent lean, has quick feet and does a good job finding a crease. He stays square to the line of scrimmage and does a good job setting up and following blocks. For a guy who lacks real good top-end speed, he had a number of long runs this past season. Still, I would not consider him a breakaway home run hitter. He is a pounder who can nickel and dime his opponent to death and when the opportunity develops can break a long run. I like the way he attacks opponents. He does a good job dropping his pads on contact and gaining yards after taking a first hit. He has very good balance and keeps his feet moving. While he doesn't have explosive power he is strong and tough to bring down. Because of his quick feet, he shows the ability to make a defender miss both in tight and in the open field.
While not used in the passing game that often, he does have good hands, and does a good job uncovering versus both man and zone coverage. The thing that surprised me was his blocking ability. He is a face up pass blocker who can hold his ground and anchor. He also does a good job picking up blitzing linebackers.
Overall, I feel Leshoure will be a very reliable pro. He is the type of runner who does well in the NFL game. He describes himself as a "Steven Jackson" type but I don't feel he has Jackson's speed or explosiveness. I see him as more of a Cedric Benson or BenJarvus Green-Ellis type — very steady and reliable. He doesn't put the ball on the ground. He can be a solid second-round pick; he just doesn't have the timed speed for a club to use a first-round pick. It was a surprise he didn't try and run the 40 again at his pro day with his average speed performance at the Combine. Then again, what he was telling the scouts is he isn't any faster than a 4.60.