March 15, 2011 -
Greg Gabriel
Breaking down Newton
When you're scouting Cam Newton, there is much more to it than just Newton the football player. In this case you also have to look at Newton the person. The reason I say this is because he will be taken high in this year's NFL Draft and he is going to be the face of the franchise that drafts him.
As a player, Newton has some special qualities. He has great size (6-5, 248 pounds) to go along with rare speed and athleticism for a quarterback. At the combine he ran a 4.59, had a 10'6 long jump, 35" vertical jump, a 4.18 short shuttle and a 6.92 3-cone. Those are good number for a big possession receiver let alone a quarterback. When I was watching him during the season, I thought he was a 4.7-type because he is a long strider, not a quick stepper. Doing this as long as I have I should have known better — striders always time faster than they look.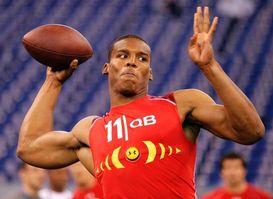 Cam Newton is expected to go very early in the first round. But will he go No. 1?
The only year Newton played at Auburn was 2010. He was a double transfer, starting off at Florida for two years then transferring to Blinn Junior College and then again transferring to Auburn. He did not get much playing time while at Florida because Tim Tebow was there. While at Blinn he led the team to an 11-1 record and the junior college national championship while throwing for over 2,800 yards and 22 TDs. In his one season at Auburn, he threw for 2,854 yards, completed 66 percent of his passes, had 30 TDs and only 7 interceptions. He also ran for over 1,400 yards and scores. His production speaks for itself.
There are many scouts and coaches that feel for a quarterback to be a top prospect and become a successful quarterback at the NFL level he needs to have started at least 30 games and thrown at least 900 passes while in college. There is some validity to that theory. Newton does not meet that criteria having started only 14 major college games, but he also started 12 JC games and that has to count for something. His total throwing attempts in JC and Auburn were more like 550 not the 900 that many look for.
Newton played in a predominantly spread offense all through college, though there were times when he took snaps from under center. He shows poise and patience after taking the snap. In Auburn's scheme, he often read just half the field but he also read the whole field a lot more than quarterbacks in many spread offenses. Newton does a good job going through his progression and finding an open man. He has very good instincts for a quarterback with little game time experience. He has very good arm strength and throws a tight ball. He gets the ball out of his hand quickly and his accuracy and ball placement are good to real good. He can make all the throws required and what is rare is that he can do it from both in the pocket and on the run.
For such a big guy, he has very quick feet. He has a good feel for pass rushers and does an excellent job of both keeping plays alive and making plays with his feet and athleticism. His run skills are second to none; he has speed, power and the quickness and run instincts to make defenders miss.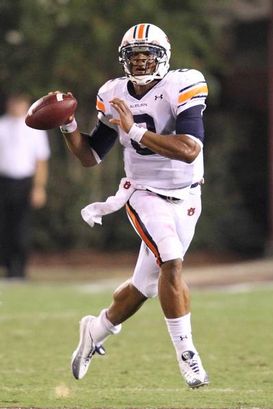 ICONNewton's comeback effort against Alabama last season was extraordinary.
The thing I like about Newton the player is he is very competitive and a winner on the field. What he did at Alabama when Auburn was down three scores is remarkable! There aren't many quarterbacks who have the talent to come from that far behind in an environment like Tuscaloosa and win. He didn't just do it at Alabama, though. He performed like that all season.
At the combine, Newton struggled with accuracy. He had to do the things that NFL quarterbacks have to do — take 3, 5 and 7 step drops, set his feet and throw with accuracy. His setups in Indy looked slow, as he is still not comfortable setting up from under center and that is throwing off his rhythm, causing his accuracy problems. He was not in proper balance when he released the ball and the ball would sail. He looked better at his pro day but he still is not there. It will be a work in progress and will take time, patience and coaching.
As much as I like Newton the player, I don't trust Newton the person and at the position he plays there has to be trust. He has three documented issues from his college days, two at Florida and the recruiting issues with Mississippi State. I don't believe for a minute he didn't know what was going on at Mississippi State. The two issues at Florida are serious issues that deal with a person's personal character. He was involved in a theft. People can say he was young, but I don't buy that excuse. I have been told that in front of the cameras, he is all smiles and a pleasure to deal with but behind the scenes he can be arrogant and have a "me first" attitude. There are teammates that question his authenticity as a person.
As a starting NFL quarterback, that player is the designated leader of the team. If he has character issues, how can he be the team leader? His teammates HAVE to respect and trust him. I have no doubt that Newton will go high in the draft but it will be a tough decision for the team that drafts him. He is a "hit or miss" prospect because of the character issues. If they "hit" it could be an all-time great pick, if they "miss" it could end up causing the decision maker his job!