October 10, 2011 -
Barry Dorey
Breaking down Notre Dame's Michael Floyd
With the college football season six weeks old, it has become apparent that the two best receivers in next April's draft will be Michael Floyd of Notre Dame and Justin Blackmon of Oklahoma State. Floyd is a 4th year senior and will definitely be in the draft while Blackmon is a 4th year junior and has to declare himself as an early entry. Being that he almost came out last year, I am fairly sure he will be in this draft. For this post we will look at the game of Floyd.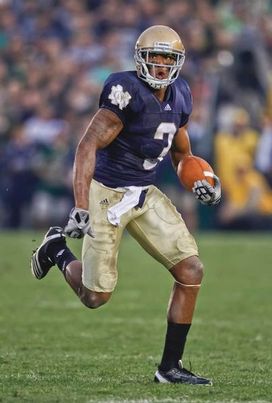 ICONMichael Floyd has 53 catches for 659 yards and 4 touchdowns in six games this season.
Floyd has had a great season to date with 53 catches for 659 yards and 4 touchdowns in six games. He has superlative size at 6-3 and 223 pounds. I don't think he is a burner; he looks like he will run in the 4.52-4.57 area. I thought that as a sophomore in 2009 he looked faster but he was playing at less than 210 pounds. Going into the 2010 season he was noticeably bigger playing at around 220 but he looked slower. This year he looks to have regained some of that lost speed but he still doesn't look as fast as he was in the 2009 season. That being said, he doesn't have to be a sub 4.5 guy to be a top receiver in the NFL. Larry Fitzgerald ran 4.58 when he came out. With his size, strength and power he has dominated in all but one game this season.
The one thing I like about Floyd is he knows how to use his size. He is an extremely physical receiver with great hands and body control. He is quick off the line with the size and strength to easily work through jams. He plays with good knee bend and even though he is a bit tight in his hips he is able to make sharp cuts to get separation. With his size, long arms and strong hands he is open even when he is covered and is effective both short and deep. He has great leaping ability and a rare ability to adjust to the ball and make the acrobatic catch either in traffic or when he is alone. After the catch he is like a big running back and it often takes more than one defender to bring him down. He has the quickness to make defenders miss and the power to break tackles. He consistently gets yards after the catch. The one thing he does better than almost any receiver I have seen in years is block. He is a physical blocker who likes to put his opponent on his back. One of the reasons Notre Dame's run game has been so good this year is Floyd's perimeter blocking. When he locks on to a defender it's all over.
Overall, there are things that Floyd does better than Julio Jones and A.J. Green last year but he doesn't have their speed. Still he has the traits needed to be an eventual number one receiver for most teams in the league. He has some character concerns that have to be checked out but if clubs like what they hear he should easily be a top 10 pick in April's draft.