April 10, 2011 -
Greg Gabriel
Breaking down Ricky Stanzi
Ricky Stanzi does not have the notoriety or get the publicity of some of the other quarterbacks in this draft, but when it's all said and done, he may be the most NFL-ready quarterback in the draft.
Stanzi is a fifth-year senior who has played in 37 games and started 35 over his career. He redshirted as a freshman in 2006, was a backup in 2007 and a starter from 2008 through 2010. There are many quarterback evaluators who feel a quarterback prospect should have started at least 30 games and thrown 900 passes in his career to be ready for the NFL. Stanzi has done that and has also won 27 games that he started.
Two things that stand out when I look at Stanzi is he has improved every year and has played in a pro style offense. The fact that he has played his whole career in a pro offense puts him ahead of most of the other quarterbacks. In the Iowa offense, Stanzi played from under center about 80 percent of the time, had to take 3, 5 and 7 step drops and read the whole field.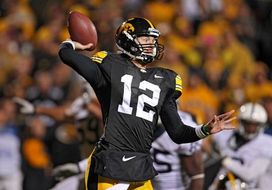 ICONRicky Stanzi tossed 25 touchdowns against only 6 interceptions last season.
When watching tape from 2009 and 2010 you see him mature as a player. In '09 he was not as poised and would force some throws causing turnovers. In 2010, you saw that he had control of the game. He was poised and patient and made good decisions. The difference in stats is telling. In 2009 he completed 56.5 percent of his passes and threw 17 touchdowns and 15 interceptions. In 2010 his completion percentage improved to 64 percent with 25 touchdowns and only 6 interceptions. That alone is very telling when you advise quarterbacks to stay in school. The more time a quarterback can get gaining playing experience and learn how to play and understand the game the better off he will be when he makes the jump to the NFL.
Looking at Stanzi as a player, he has very good size at 6-4 and 223 pounds. He doesn't have great speed, running in the 4.90 range, but he has quick feet and very good body control and good overall quickness. He can set up very quickly from under center and he sets his feet and stays in balance. He has a smooth overhand delivery with a quick release. When he finds his target the ball is out of his hand quickly. He throws a tight ball that is very catchable and has more than enough arm strength. While he doesn't have a cannon like a Jay Cutler, he can still put some zip on the ball and can easily throw the ball 55 yards in the air.
He's poised and patient and shows good ability to see the field and go through a progression. He has good instincts and doesn't make many poor decisions. When you watch the end zone tape you can see him go through his progression sometimes going from 1 to 2 to 3 and then making the throw to the open man. You seldom see him stare down receivers and force a throw. His accuracy has improved every year as well as his ball placement. At the Senior Bowl practices he threw the best deep ball of the six quarterbacks there.
When facing a strong pass rush he doesn't panic. He has a good feel for pass rushers and has the quick feet and athleticism to keep a play alive and find an open man. He takes what is given and if that means going to a check down that's what he does.
Overall, I don't see Stanzi as a premium first or second-round player but I see a very smart and mature player who a team can take in the third or fourth round and be very happy with. He has excellent intangibles and a strong passion for the game. I have no problem saying that he will be an eventual starter in the league and a player you can consistently win with….just like he was in college.