December 06, 2011 -
Greg Gabriel
Breaking down Tannehill and Blackmon
Like every season, the Big 12 conference has some excellent skill position prospects for the NFL Draft. In this article we will take a look at Texas A&M quarterback Ryan Tannehill and Oklahoma State wide receiver Justin Blackman, two players who will be high draft choices come April.
Ryan Tannehill
Tannehill is not your usual NFL quarterback prospect. He was a three-star recruit out of high school with offers from places like TCU, UTEP and Houston as well as Texas A&M. He redshirted as a freshman and because he had excellent athleticism and wasn't going to be in the top two as a quarterback, he was moved to wide receiver as a redshirt freshman. He finished that season (2008) with 55 catches for 844 yards and 5 touchdowns. In 2009 he again played receiver had 46 catches for 609 yards and 4 TDs. In 2010 he worked his way into the backup quarterback position and saw only limited action as a receiver. By midseason he had become the starting quarterback and has shown dramatic improvement since. Still, he is a long ways away from being a potential starting NFL quarterback.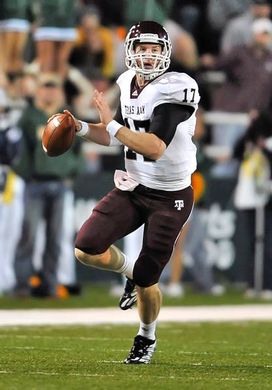 ICONRyan Tannehill is a talented player who needs more reps to mature as a QB.
He has excellent size at about 6-4 and 225. He is a fluid athlete with speed and should easily run in the high 4.6's. In the Texas A&M offense he plays from both under center and in a spread and shows a strong command of the game. In saying that, he is still very inconsistent. I have seen four games from this season (Baylor, Texas, Oklahoma State and Iowa State) and he can be really good in some (Baylor) and struggle in others (Texas). Part of the reason is he still doesn't have a lot of experience at the position. He has only played in 19 games as a quarterback and that inexperience shows. While he is a very smart kid, he can be indecisive on the field and not trust what he sees. He can have a tendency to stare down a receiver or force a throw into coverage causing turnovers (Texas game).
He can set up quickly, has good feet and balance and because of his athleticism can extend plays with his feet. He is a better than average passer when throwing while on the run. He has a compact overhand delivery and a fairly quick release. His arm strength is good and he throws a catchable ball but his timing is sometimes off. For the season, he completed 300 of 491 for 3,415 yards, 28 touchdowns and 14 interceptions. Nine of those interceptions came in three games (Oklahoma, Oklahoma State and Texas). Though he completed 61 percent of his passes, I would say that he could best be described as a streak passer. Once he gets in a groove, he throws the ball very well, but at the same time when he starts to struggle, that play also continues. At his best he can make all the throws an NFL quarterback needs to make.
Overall, Tannehill is a good but not a top quarterback prospect. He is still a work in progress and because he only played quarterback two years in college he is behind others at the position in this class. You have to like the flashes but he is too inconsistent. He has a lot of upside but he will need patient coaching to reach his ceiling. At this point of the evaluation process I would not want to draft him before the 3rd round and that may be a little high. Still, he has a bowl game, an All-Star game, the combine and personal workouts to go through. Strong showings in this phase can improve his stock.
Justin Blackmon
In the last two seasons, Blackmon has proved to be one of the top wide receivers in the country. In 2010 he caught 111 passes for 1,782 yards and 20 touchdowns. With a game to play this year, he has 113 catches for 1,336 yards and 15 touchdowns.
Blackmon is a 4th year junior, having redshirted in 2008 his true freshman year. He was not a highly recruited player coming out of high school. He was rated as a three-star player with offers from places like Colorado, Missouri and Northern Iowa as well as Oklahoma State. Though he still has another year of eligibility, it's almost a forgone conclusion that he will enter the draft. He came very close to coming out last year.
Blackmon has excellent receiver size at about 6-1 and 215. He looks taller because he is so long. He is a fluid athlete with excellent flexibility and body control but only average speed. After watching four tapes yesterday, I would estimate his play speed at no better than 4.6. On tape you don't see him pull away from people on deeper routes. It's a combination of the offense he plays in, his body control and his route running ability that make him as productive as he is. Though he has some concentration drops, he has excellent hands and almost rare ability to adjust to the ball. He has very good leaping ability and will consistently go up and snatch the ball at its high point both in traffic or when free. While he is not a burner, he uses his body control and length to get open even when a defender is close by. He is a very good runner after the catch using his strength and natural run instincts to get yardage. As a blocker, he is willing and at times shows he can be a big hitter.
Overall, the player in the league I would compare Blackman to is Anquan Boldin. They have a similar skill set coming out of college. Blackmon is probably a bit faster than Boldin as Anquan struggled to break 4.7 when timed. Still, football character, instincts, route running ability and hands will make him a productive possession receiver in the NFL. Comparing Blackmon to Notre Dame's Michael Floyd, I would say Floyd will run faster and is a more physical player but Blackmon has a little better body control. Before I watched the tape, I would have thought Blackmon was the better prospect because of his production but now I would have to go with Floyd.