June 03, 2011 -
Greg Gabriel
Breaking down Terrelle Pryor
With Jim Tressel resigning from Ohio State, Buckeyes quarterback Terrelle Pryor has been in the news a lot recently. We already know he will miss at least the first five games of the 2011 season and after the NCAA finishes its investigation, he may end up missing more. With that being said, there is a chance that Pryor could make himself eligible for the NFL Supplemental Draft. There is one catch — there isn't a supplemental draft scheduled for this year. At least not yet.
On Tuesday, the NFL said it hasn't scheduled such a draft yet because no players have applied for one. After talking to a few labor lawyers it is my belief that the league was just covering their "butt" so to speak by making that statement. They are letting any potential draftees know that the league is willing to let them go through the draft process.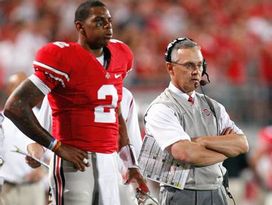 Has Terrelle Pryor taken his final snap in Columbus?
A supplemental draft would be part of a 2012 draft and since the current CBA has expired there is no 2012 draft. It has to be bargained for as part of a new CBA. Could the NFLPA let the NFL hold a supplemental draft so that players who may request one can get drafted? Yes, but why? As part of its lawsuit against the NFL, the NFLPA and its membership is challenging the whole idea of a draft, so letting the league hold a supplemental draft would be in question at this time.
Since you, the fan, have done nothing but read about all the legal maneuverings the last few weeks we will leave that to the legal experts and get on with the question of whether or not Pryor can play. The answer is yes!
I watched five games of Pryor from 2010 (Wisconsin, Iowa, Illinois, Miami and Arkansas) and have seen many of his games his first two years in college. Two things stand out: he has improved each year and he is an outstanding athlete. As a freshman he was an athlete who played quarterback and had poor throwing skills. In his three years playing he has become more of a passer than a thrower but he is still a long ways away from being an accomplished passer.
We don't have verified measurables on Pryor but he is about the same size as Cam Newton (6-5 and 245 pounds) and may be a little better athlete. He has speed, quick feet and outstanding body control to go along with very good strength. He has outstanding arm strength and can throw a tight, catchable ball. Unlike many of the "spread" formation quarterbacks, Pryor has played a number of plays from under center. It could be as much as 30–40 percent of the Ohio State offense, so playing from under center will not be a skill that he will have to learn when he makes the jump to the NFL.
When taking snaps from under center, Pryor shows he can set up quickly, though he needs improvement with his footwork and staying in balance. On many of the OSU passing plays, Pryor has just a half-field read, but you do see him read the whole field at times. There are many times that when a play breaks down he will step up and look to the opposite side of the field and try to find an open receiver and at times he is able to find one.
While he does have fairly good instincts, Pryor does not consistently process things quickly on the field. Instead of being patient and waiting for the play to develop he will often take off and run when under pressure. Because of his speed and athleticism he can be very dangerous and make big plays when he decides to run. He has a running back mentality with the ball in his hand and can be a powerful runner.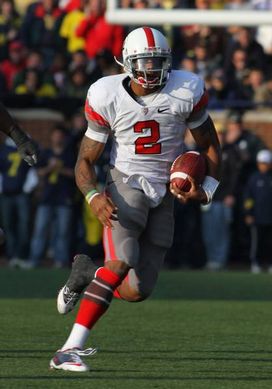 ICONPryor has improved throughout his career but he is still a long ways away from being an accomplished passer.
In the passing game, Pryor is much more comfortable throwing to his left than he is to his right. There are some games when a good majority of his throws are to the left and some of his worst throws go to the right. He has a strong arm and from a statistical point of view good accuracy, but his ball placement is average. There are many throws where the receiver has to make a big adjustment or just wait for the ball. While he can get away with that in college, he won't in the NFL. He only has average vision and is not consistently quick to find open secondary receivers, which is why he lacks patience. He flashes throwing with touch, but he can be very inconsistent when throwing on the run. The one thing that is noticeable is that he throws a good deep ball, but he will also force some deep throws and throw into double or triple coverage. He has to learn that while he has arm strength and deep accuracy, his thought process has to be more conservative and not force throws.
One of the primary traits a quarterback has to have to be successful in the NFL is leadership. He has to lead both verbally and by example and be respected by both his teammates and coaches. This is a trait that has been in question his whole career at Ohio State. After Pryor's first year at OSU, I was at an All-Star game interviewing players for that draft. One of the players I talked to was an Ohio State player. As part of the interview I would ask him about players he played against in the Big Ten and some of his draft-eligible teammates. I seldom ask about underclassmen but because Pryor was such a big name I decided to ask his opinion of the freshman. The answer was shocking. He told me he disliked Pryor very much and if anyone said they like him they would be lying! He said that Pryor came in with an attitude, felt he was better than every one else and did not really have to compete to get the QB job because it was owed to him. He said Pryor was cocky, arrogant, and not very friendly and showed little or no respect for older teammates — guys who had already paid the price. He questioned Pryor's work habits both on and off the field and his overall ability to lead, saying he was too selfish to be a leader.
Granted, this was during Pryor's freshman year and hopefully he has matured, but from all accounts recently by "unnamed" teammates, things have not changed that much. It seems that Terrelle Pryor is all about Terrelle Pryor.
Overall, as a talent, Pryor could be in the same class as Cam Newton. He has some rare traits and is very competitive on the field. He is a playmaker and has more natural talent than many of the quarterbacks drafted in the first round this year. It also seems as if he has many of the same "issues" as Newton, but still talent wins out and some team will draft him very high. Whether or not he becomes a good NFL player remains to be seen. With his current attitude, I wouldn't bet on it but he is young and hopefully he will grow.