November 06, 2014 -
Greg Gabriel
Breaking down the college football playoff
For the last 15 years we determined the College Football National Champion with the BCS system. The problem with that system was that almost every year it looked like a top team was getting left out of the process.
During that 15-year period, the SEC rose to the top of college football by having the best and deepest conference from top to bottom. As a career NFL scout, I can attest to that as there are more players drafted out of the SEC than any other conference.
This season marks the first year of the College Football Playoff system. However, after two weeks of rankings I can already see some flaws in the system and some bias on the committee's part. The SEC has obviously been given preferential treatment in the early rankings. Whether or not that is fair still remains to be seen.
One thing the Playoff Committee is supposedly looking at is strength of schedule. If that is the case, I don't understand how some of the teams in the current top-10 are there.
TCU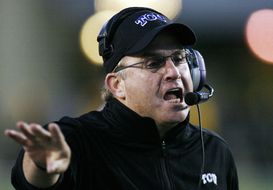 US PRESSWIREHas Gary Patterson's TCU squad played enough quality competition?
For our first example, let's look at TCU, who is presently ranked sixth by the committee. I'm not arguing that the Horned Frogs are not a good team, but when I look at their schedule, it isn't what I would call "tough." The opening game came against FCS Samford and TCU's third game featured SMU, which has to be the worst team in Division I college football. They also played a 3-6 Texas Tech team and have upcoming matchups with 2-6 Kansas, 2-6 Iowa State and a 4-5 Texas team. These aren't exactly tough showdown on the schedule.
As a scout, when I look at the Big 12 as a whole, I see a conference that is strong offensively and very weak defensively. It has been this way for years and top to bottom the conference is weak. It is a conference of haves and have nots.
Kansas State
Kansas State is ranked seventh with their only loss coming at home to Auburn. I've seen Kansas State play a number of times this season and I don't feel they are very good. I will say that they may be the best coached team in the country, but we can say that about Kansas State every year. Bill Snyder does a marvelous job, but when you look at their players, they are very average.
Kansas State still has some very tough games left on their schedule and they could very well be a three or four-loss team before the season ends. The Wildcats still have to play West Virginia, Baylor and, of course, TCU this Saturday. We will know shortly if Kansas State truly belongs where they are ranked at the moment.
Oregon
Oregon sits at 8-1 with their lone loss coming by way of an upset home defeat to Arizona. When you look at the Ducks' early schedule, they played FCS South Dakota and a poor Wyoming team. They also beat eighth-ranked Michigan State.
Oregon plays at Utah this week and if they win that game, it looks as if the Ducks have a free ride into the PAC-12 Championship game. If they win that game, Oregon will no doubt be in the 4-team playoff.
Michigan State
Michigan State also sits with an 8-1 record. They are easily one of the stronger teams in the Big Ten. The problem, however, is that the Spartans play the Big Ten and like the Big 12, it is a weak conference top to bottom.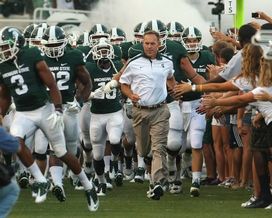 Would Michigan State qualify for the final four if they ran the table?
Looking at Michigan State's schedule, the Spartans have played only two good teams. Oregon and Nebraska and Nebraska is average. None of the last three teams they have played has a winning record (Purdue, Indiana and Michigan). They also beat Jacksonville State, Wyoming and Eastern Michigan. Those games are a joke.
Michigan State plays at home versus 14th-ranked Ohio State on Saturday and if they win that game, they will most likely be in the BIG Ten Championship game, as the remainder of their schedule features mediocre teams in Rutgers, Penn State and Maryland.
Notre Dame and Arizona State
Both of these teams are 7-1. Looking at their schedules, you could argue that they have played far tougher teams than many of the schools ranked above them. Notre Dame's only loss was by four points on the road to second-ranked Florida State. That game was decided by a horrible offensive pass interference penalty with just a few seconds left in the game. Looking at the replay a number of times, there definitely was a penalty on the play, but it was defensive holding, not offensive pass interference.
Still, by being ranked ninth and tenth, Notre Dame and ASU have to win out to have a chance at getting into the playoff. The two teams play each other in Tempe Saturday afternoon. The loser can kiss their season goodbye as far as getting into the playoffs is concerned.
Alabama, Mississippi State and Auburn
While I don't feel that the SEC is as strong this year as it has been in previous years, the conference still has more depth than any of its counterparts. There are very few easy games in this conference.
What's good about the SEC is that all three of these teams have tough games yet to play, with Alabama perhaps having the toughest schedule. The Tide still have to play at LSU and then have home games against Mississippi State and Auburn.
Mississippi State has to play at Alabama and at Ole Miss. Auburn plays at home against Texas A&M and then travels to Georgia and Alabama. All three schools play a weak FCS school on November 22.
With the schedule being as it is, these schools will knock each other out of contention. My guess is that Alabama will be in the best shape when the playoff is announced.
Florida State
The defending national champs are undefeated and look like they may be a lock to get to the playoff. In saying that, it has to be pointed out that Florida State has also been very lucky. The Seminoles could have very easily lost to Clemson, Notre Dame and Louisville, but found a way to get the job done in all three.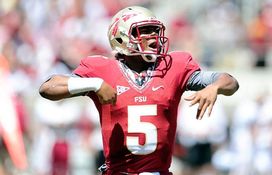 Winston and the Seminoles have only one tough game remaining on the schedule.
Florida State only has one tough game left on their schedule and that is at Miami on November 15. Assuming they win that game, they should be a lock for the final four.
While I don't agree with how the teams in the top-10 are ranked right now, the good news is that there are still four good weeks of college football to be played and things will get sorted out. Who we see in the top-four right now will not be the same teams we see in early December when the final decision is made.
Looking at schedules, my guess is that Alabama, Florida State and Oregon will be in, but I don't have a clue who the fourth team will be. I feel comfortable in saying that it won't be TCU, Kansas State or Michigan State. If real strength of schedule means anything, then they have to be out.
Follow Greg on Twitter: @greggabe