July 28, 2011 -
Barry Dorey
Breaking down the Podlesh and Babin signings
At first look, the Bears signing of Adam Podlesh and the Eagles signing of Jason Babin aren't going to create a lot of headlines, but it's signings like these that really help teams during the course of the season.
You don't hear much about punters unless they have a poor kick, but in reality he is one of the most important players on a team. In close defensive games like we have been seeing in the NFL the last few years the punters' ability to change field position can change the whole course of the game.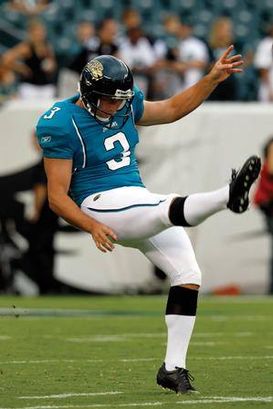 Adam Podlesh is the new punter of the Chicago Bears.
In his ten years in Chicago, Brad Maynard did a great job. But in the last few years, he has been bothered by nagging injuries and his production has gone down so his reliability wasn't as good. With the signing of Podlesh, the Bears get a punter who is 9 years younger and in his prime. His stats have improved every year and his average per kick was 3 yards better than Maynard's. He is equal or better to Maynard in being able to place the ball inside the 20, something that is very important when playing in Soldier Field. With the Bears having one of the best coverage units in the league this signing will turn out to be very satisfying.
Jason Babin is an undersized natural pass rusher. He is best utilized in a 1-gap scheme where his speed and quickness off the ball is a fit. Babin played defensive end at Western Michigan and he was a relentless pass rusher. When he was drafted by Houston to be an outside linebacker I didn't see the fit. Last year when he was in Tennessee and playing for defensive line coach Jim Washburn, the Titans were able to put him in position to play his best and he came through with 12.5 sacks. Since the end of 2010 Washburn has moved to Philadelphia and one of the first players he wanted was Babin.
Philly's group of defensive ends is on the small side but they have 4 guys who can run, get up field and pressure the quarterback. Having 4 outside rushers (Babin, Trent Cole, Brandon Graham and Ricky Sapp) gives the Eagles and Washburn the ability to rotate and keep constant pressure on the offense. It was a great move!