February 10, 2012 -
Greg Gabriel
Breaking down three top Alabama defenders
Since Nick Saban has been head coach at Alabama the talent level of the Tide's players has gotten better and better. This year there are three players on defense that could go very high in April's NFL Draft. They are outside linebacker Courtney Upshaw, corner Dre Kirkpatrick and safety Mark Barron. In preparing this report I was able to look at the game tape of the Mississippi, Tennessee and LSU regular season games and a TV tape of the BCS game vs. LSU. Let's take a look at their games.
Courtney Upshaw
Upshaw plays the weakside OLB in Alabama's 3-4 defense. He will often line up as a defensive end and have his hand on the ground for obvious passing situations. He lacks ideal height for the position and may be a bit heavy. At the Senior Bowl he measured 6-1 and 273 with only 31.5" arms. While he is quick with a very good first step, I would not say he is a fast guy. He plays as if he is a 4.75-4.80 type. He is athletic with good change of direction and body control and plays with excellent strength and power.
Coming out of high school, Upshaw was a 4-star recruit and was recruited by most of the southeast's major schools. He played as a backup as a freshman and sophomore and has been a starter the last two seasons. He had excellent stats this year with 51 total tackles including 17 tackles for loss, 8.5 sacks and 1 interception.
Upshaw rarely drops into coverage; he is more of a rush OLB. He has top instincts and is very quick to find the ball. He shows strength and power at the point and does a good job shedding blocks. He is a top competitor who pursues hard and takes good angles. As a pass rusher, he gets off the ball quickly with a quick first step and shows the ability to dip his shoulder to get under blockers. He has the hand use, foot quickness and body control to put together counter moves and is a very good bull rusher. What he lacks is top speed to just beat his opponent cleanly with his speed.
Overall, I see Upshaw as purely a 3-4 OLB. He lacks the height and arm length to play DE in a 4-3. He needs to lose some weight to be more effective. At 273 he looks heavy in the mid-section. 255 would be a much better play weight and it may increase his speed some. His short arms could hurt in the leverage game at the next level but because of his competitive nature and overall talent he should be a starter fairly early in his career.
Dre Kirkpatrick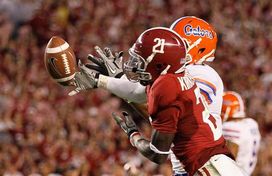 ICONDre Kirkpatrick has all the physical tools to be an excellent corner in the NFL.
Kirkpatrick is a 3rd year junior who is entering the draft early. He has been a 2-year starter at left corner but there are some games or situations where he lines up as the field corner. He has rare height for a corner at about 6-2 with a lean frame and long arms. He looks to play at about 190. He had a very productive season with 30 tackles and 9 broken up passes. He had no interceptions. In fairness, teams don't throw his way very often. As a sophomore he had 3 interceptions.
Coming out of high school, Kirkpatrick was a 5-star recruit and was recruited by some of the top programs in the country. He is an excellent athlete with smooth body control and good play speed. He looks as if he can run in the high 4.4's. He stays low in his pedal, turns quickly and has a burst out of his turn. There is no wasted movement when he is in transition and he closes quickly.
Kirkpatrick can play all the coverages; he is effective in press, zone and off. While in press he has a strong jam to redirect and excellent mirror skills. He plays double moves very well. In zone and off he consistently stays in good position, shows excellent awareness and doesn't let a receiver get behind him. He tracks the ball and won't give up a reception without a fight. He shows excellent run support ability, coming up quickly and can be an explosive tackler.
Overall, Kirkpatrick has all the physical tools to be an excellent corner in the NFL. Corners with his height and wingspan are rare and he should get drafted very high assuming he runs well at the combine. The main concern is that shortly after the season ended, he was arrested for marijuana possession. The charges were later dropped when his companion said the "grass" was his. Still it's a red flag and cause for concern and his off-field activities need to be checked out.
Mark Barron
Barron is a 3-year starter at strong safety and a very productive player. This season he was second in tackles for the Alabama defense with 68 to go along with 1 sack, 2 interceptions and 5 broken up passes. Barron has ideal safety size at 6-1 and 223. While there is no verified times on him he looks to be in the 4.50–4.55 range.
As a senior in high school, Barron was rated as a 4-star recruit and like Upshaw, he was recruited by all the major southeast powers.
As an athlete, Barron is very fluid with excellent body control. He has a low pedal, turns smoothly and has no wasted movement in transition. He is effective in zone and man coverage. He will often line up on a slot receiver in man and shows very good mirror skills. He has the long speed to stay with them deep and the body control to play versus moves. He is very instinctive and alert in zone and has the range to get to the sideline from the center of the field. In the first LSU game he broke on the ball from the middle of the field to get the pick and then return it to inside the 10-yard line. In other games he has shown the range to get to the sideline to make a PBU.
<p> One of the best aspects of Barron's game is his run support and tackling. He is very instinctive and reads run quickly. He comes up aggressively, can shed and is a very good tackler. I didn't see a miss in 4 games viewed.
Overall, in my opinion, Barron is a better player than any safety in last year's draft class. He has all the tools to start early in his career. He has size, speed, strength, ball skills and instincts. While you don't see many safeties get drafted in the first round, Barron has a strong chance of that happening this year. This guy is a player.