March 29, 2011 -
Greg Gabriel
Breaking down Tyron Smith and Nate Solder
There is a strong chance that just about half the clubs in the first round will use their pick on an offensive or defensive lineman. Drafting linemen is safe drafting and good business in the long run. Why? First off, you get to develop your own guy in your system. Second, getting offensive and defensive linemen in free agency can be very expensive and you don't always know what you're buying. Also, I have always felt that in order to win in the NFL, you need a strong offensive and defensive line and a quarterback. Have strength in those positions and you have a chance to win every week.
Two offensive linemen that we haven't talked about yet are junior Tyron Smith of USC and Nate Solder of Colorado. These are two interesting guys from two different backgrounds.
Tyron Smith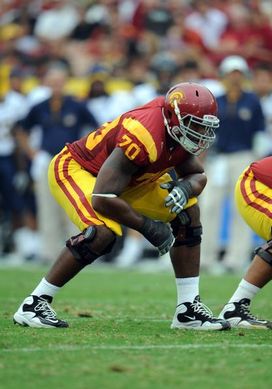 ICONTyron Smith could be the most athletic tackle in this year's draft.
When Tyron Smith came out of high school, everyone expected him to be an outstanding player. He was a 5-star recruit as a left tackle. All the top programs in the country were recruiting him. As a freshman he played in 10 games as a backup at left tackle. In his sophomore year, the right tackle job was open and he secured it and was a fixture there the last two seasons. At the time he was ready to start, Saints 2010 2nd round pick Charles Brown was the starter at left tackle and so Smith played on the right side.
Smith on tape looks to easily be the most athletic tackle in this year's draft. He has great size at 6-5 and 307 pounds with a great physique and extremely long arms (36 3/8). He did not do drill work at the Combine because he was still doing rehab from a December knee scope. He will be working out at the end of this week at the USC pro day. He did bench in Indy and did 29 reps, which is excellent for a guy with such long arms.
On tape, Smith looks like a player. He is very comfortable playing from a 2-point or 3- point stance and has excellent snap reaction. He stays low coming out of his stance and plays with very good bend and balance. He takes proper angles to blocks and is very explosive on contact, consistently getting movement. He looks to finish his blocks and if he has a chance to put his opponent on the ground he will. Smith shows his athleticism playing in space, easily adjusting on the move. You seldom see him overextend or off balance. When used to pull, he shows speed and the agility needed to hit a moving target.
In pass protection he sets very quickly with excellent lateral movement. You always see him in good football position. He has a strong base with very good knee bend. He can slide laterally to mirror and can shift his weight and move back to the inside. He has good hand use, keeping his hands inside with a compact punch. With his power he easily handles bull rushers.
Overall, Smith was the last of the top tackles I got to see on tape but he may be the best. He is still young being just a 3rd year junior and so he still has a lot of upside. From an athletic standpoint he is a natural left tackle but hasn't played that position since high school so if the club that drafts him wants to move him to the left side there will be a period of transition and adjustment. From what I'm hearing around the league, if his workout goes well this week he very well may be the first tackle off the board. This player has a tremendous amount of talent.
Nate Solder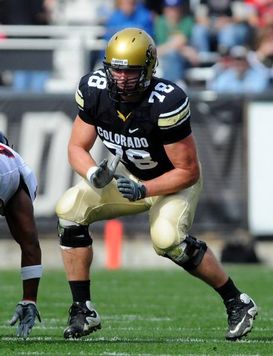 ICONNate Solder was a tight end coming out of high school.
Solder was not the high-profile recruit that Smith was. Coming out of high school he was a 3-star, 240-pound tight end. He redshirted his first year and played as a backup tight end the next year. In his redshirt sophomore year, Solder was moved to left tackle and has been a fixture at the position ever since. He has shown remarkable durability at the position, starting every game the last three seasons and missing a total of only TWO snaps. He has played over 2,500 snaps at left tackle.
At 6-8 and 319 pounds, he is very tall with good arm length (35