August 08, 2013 -
Greg Gabriel
Breaking down USC's Lee
The college football season gets going in a little over three weeks, and one of the most explosive and exciting players we will get to see is USC's junior receiver Marqise Lee.
Last year as a true sophomore, he caught 118 passes for 1,721 yards and 14 touchdowns. He also returned 30 kickoffs for a 28.5 yard average and 1 score.
Lee grew up in Inglewood, CA, and attended Junipero Serra High School where he starred in both football and track. He was rated as a 4-star recruit and was offered mainly by Pac-12 schools but did receive offers from Michigan, LSU, Miami and Florida as well. He came in and started as a freshman and caught 73 passes for 1,143 yards and 11 touchdowns.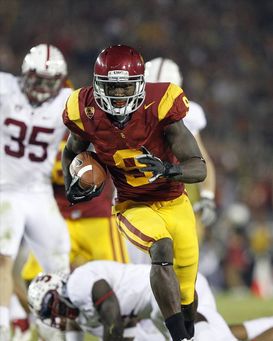 ICONMarqise Lee caught 118 passes for 1,721 yards and 14 touchdowns in 2012.
On tape Lee looks bigger than his listed 6-foot, 195-pound frame. The reason being he has extremely long arms. He may be 6-foot but he plays 6-3 or 6-4 because of his arm length.
He has great play speed and looks to be a 4.40-type. Along with his excellent top-end speed he has very good body control and leaping ability. Besides playing football at USC, Lee also participates in track as a long jumper with a personal best of 25 feet. When Lee decides to go to the NFL (from what I hear, that will be next year) it will be interesting to watch him perform the long and vertical jumps at the Combine. I would think he would be in the 11 foot range with the long jump and 40" area with his vertical.
Lee is used in a variety of ways by USC. He is split out wide as an X or Z, lines up in the slot and also as a running back. He runs a lot of bubble screens and is also used on outs, comebacks, slants and go routes. While he is an exceptional athlete he is an average to good route runner. He doesn't run what I would call disciplined routes but he can still break down and get in and out of a cut very quickly.
He separates easily. He has very good hands and shows the ability to snatch the ball. Because of his athleticism and body control he makes some highlight film type catches. He tracks the ball very well, and with his flexibility can easily catch balls that are behind him or up high. With his burst he can get to passes that look as though they may be overthrown.
After the catch he is a highlight film waiting to happen. He is very quick and sudden with excellent change of direction. He has the ability to make defenders miss both in tight and in the open and can easily turn a short out or comeback route into a long gain. He has very good strength and shows the ability to break tackles and get yardage after first contact. His run instincts are equal to a top running back.
There are many wide receivers who have big play ability but they aren't physical players. That is not the case with Lee. He is one of the better blocking receivers you will see. There have been numerous times in the tape I watched where he makes the key block to open up a running lane. He isn't a "shadow" blocker either...he gets after it and tries to put his opponent on the ground. This is a very competitive football player in all phases of the game.
As a kickoff returner he is NFL-ready right now. He is patient to set up and follow blocks and then burst when there is a seam. Once in the open he is tough to catch and has the speed to outrun opponents with an angle.
Overall, Lee could be considered a bit "raw" because he is not a polished route runner but few have his natural traits. He has everything that is needed to be a top receiver at the NFL level. His speed, hands, run instincts and playmaking ability are all at an elite level. I expect that when we see him play this year he will show vast improvement over last year and that has to be scary for USC opponents. If he improves the way I feel he will, he easily has top 10 pick potential in next year's draft.