October 09, 2014 -
Greg Gabriel
Bursting onto the scene
As we approached the start of the 2014 college football season, West Virginia senior wide receiver Kevin White wasn't mentioned along with the rest of the elite receivers in this year's class.
That's because White, a junior college transfer, did not put up elite numbers during his first season with the Mountaineers. He played in 11 games and started nine during the 2013 season, finishing the campaign with 35 catches for 507 yards and five touchdowns. Those are hardly the type of stats that are going to bring a wideout into the conversation when discussing the top wide receivers.
However, things changed in a hurry in 2014. West Virginia opened the season against powerhouse Alabama and White starred in that showdown, finishing with nine receptions for 144 yards and a touchdown. He followed that up with a 10-catch effort against Towson and then a 13-catch, 213-yard performance at Maryland.
In five games this season, White has totaled 48 receptions for 765 yards and four scores. He has become the main focus of the West Virginia offense week after week. Where White was a relative unknown entering the season, he is now the player opposing defenses try to stop on Saturday.
Why has White come on so strong? First, let's look at his size. White is a big guy at about 6025 – 213 pounds. He has a strong looking frame with long arms, is well built and has very good overall athleticism. He has excellent change of direction with very good overall body control and flexibility.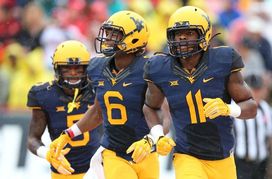 Through five games, White (far right) has already notched 48 receptions for 765 yards and four touchdowns.
Not only is White big and strong, he is fast. He has explosive initial quickness and gets to full speed very quickly. I would estimate his speed at being in the 4.45 to 4.47 range. He is a smooth medium strider who can break down and get in and out of cuts very quickly. He is consistently able to create separation coming out of his breaks on comeback routes and hitches and can stop and get back to the ball very well. Additionally, his overall route running skills are very good.
Kevin's hands are very reliable as well. He consistently catches the ball with his hands and tucks it away quickly. He can track the ball and adjust to it very well while it's in the air. In the first third of the season White has already made a number of highlight reel-type receptions.
To go along with his hands and ability to adjust to poorly thrown passes, White has outstanding run-after-catch skills. With his size, strength and power, White looks like a running back when he gets in the open field. He has excellent strength to break tackles and has the moves and quick feet to make the first defender miss on a consistent basis. What is really impressive is his explosive burst up field once he gets the ball in his hands. He is at full speed in just a few steps.
White has become a very confident receiver and competes for the ball in traffic on a consistent basis. He will go up for the ball between defenders and is willing to take the big hit. But with his size and strength, he is the one usually doing the hitting. His downfield blocking ability is as good as any receiver I have seen over the last few years.
Overall, you can classify Kevin White as a complete receiver. While he can play inside as a slot, he would be best utilized outside at X or Z. He has all the tools to excel at the NFL level and should play and contribute as a rookie.
In my opinion, White is easily a second-round pick and if he tests well at the Combine (I'm sure he will), don't be shocked to see him go in the first round next April 30.
Follow Greg on Twitter: @greggabe