September 27, 2014 -
Greg Gabriel
Busting out early: Part II
Entering last May's NFL draft, many were saying how this was the best rookie crop in quite some time. Through the first three weeks of the season, that is proving to be true as there are several first-year players who are already having a strong impact with their play. On Thursday, I wrote about five of those rookies. Today we'll take a look at a few more.
Jack Mewhort, Offensive Guard, Indianapolis Colts
The Colts are averaging better than 400 yards per game on offense and one of the reasons is due to the team's offensive line play. While it is mainly a veteran group, Mewhort, the Colts' second-round pick, is the lone rookie with playing time, starting at left guard.
Mewhort was a tackle at Ohio State, but the Colts, who felt they were weak at the guard position, immediately moved Mewhort inside during offseason drills. He has great size (6'6" – 310), is a good athlete and is strong, explosive and nasty.
The Colts' ground game struggled in 2013, but has been much better in 2014, with Mewhort serving as one of the key reasons why. He is a strong run blocker who stays low out of his stance and is explosive on contact. He consistently gains some movement with a high percentage of his run blocks.
While Mewhort may eventually be moved out to tackle in the future, he is very good playing inside and has the traits to be an eventual Pro Bowl-type player.
Joel Bitonio, Offensive Guard, Cleveland Browns
Like Mewhort, Bitonio is a second-round draft choice who played tackle in college. The Browns felt that they were weak inside and moved Bitonio to guard during OTA's.
Bitonio started to make a name for himself at the Senior Bowl last January with his physical play and nothing has changed during his time in Cleveland. While he may lack great size (6'5 -305), he is very strong and plays with a nasty disposition.
Bitonio is well coached, plays with good bend and looks to finish every block. In pass protection, Bitonio has the lateral movement skills of a tackle and is very aware. In short, Cleveland is getting first-round play with their second-round pick.
Justin Britt, Offensive Tackle, Seattle Seahawks
Many draft analysts criticized Seattle when they selected Britt in the second round. He was an "under the radar" type player at Missouri last year. In my report last October, I wrote that I saw Britt as a solid run and pass blocker who possessed good hand use. I also said that while he played left tackle in college, right tackle would be his best position in the NFL. I did not see him as a rookie starter, but I did say Britt would be a starter by year two.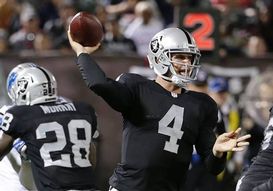 Carr is completing 63% of his passes through three games this season.
I got part of it right, as Britt is playing right tackle. But he has been a starter since midway through the preseason and is playing at a high level. He is a consistent run and pass blocker and he improves every week.
Early in the preseason, I thought Britt was having some trouble blocking wide speed, but he has since improved his footwork and does a good job against speed rushers.
Britt has excellent football character and that is one of the reasons he is playing so well. He wants to be a great player and is well on his way to getting there.
Derek Carr, Quarterback, Oakland Raiders
There were three quarterbacks taken in the first round of the 2014 NFL Draft last May. Until this week, none had started a game. On Sunday, both Blake Bortles and Teddy Bridgewater get the start for Minnesota and Jacksonville, respectively.
Derek Carr was the fourth quarterback selected in the draft but he didn't go until the fourth pick of the second round. Going into the draft, I felt Carr was the top quarterback available and he quickly beat out veteran Matt Schaub for the starting gig in Oakland. Granted, the Raiders don't have a strong roster, but Carr was clearly the better player when compared to Schaub.
While the Raiders haven't won a game, Carr has played well. He has completed 68 of 108 passes for 588 yards, three touchdowns and three interceptions. Yes, Carr has made some rookie mistakes, which is the same thing that will happen to Bortles and Bridgewater, but he also has made some outstanding throws and with experience, he will become an excellent NFL quarterback.
Follow Greg on Twitter: @greggabe