September 25, 2014 -
Greg Gabriel
Busting out early
At the conclusion of the NFL draft, many analysts including myself start trying to figure out which rookies will have the biggest impact during their first NFL season. Of course, the leader of the pack this past May was Houston's Jadeveon Clowney because of the position he played and the fact that he was the first overall pick in the draft. Things haven't worked out that way for Clowney, but only because of an injury sustained in Week 1. I'm sure that when healthy, Clowney will have the impact that everyone thought he would.
With that being said, there are some rookies who have played very good football in the early part of the season. Here are my thoughts on a few of them:
Kyle Fuller, Cornerback, Chicago Bears
When Fuller was drafted, the Bears had him slated to play the nickel corner position as a rookie. While not technically a starter, Fuller would still play better than 60 percent of the defensive downs.
Such was the case in the opener against Buffalo and at the start of Week 2 against San Francisco. While playing as the third corner, Fuller played some very good football, but then starting corner Charles Tillman injured his triceps and Fuller was elevated to the role of starting corner. Three weeks into his rookie season and Fuller already looks like he will be a star.
After three games, Fuller is second on the team in tackles with 19. He also has three interceptions and two forced fumbles. Not only has he played well, but the Virginia Tech product was named NFC Defensive Player of the Week after his performance against the 49ers.
While it is difficult to exceed expectations as a rookie, that's exactly what Fuller has done. His coverage and ball skills are so good that clubs are already starting to stay away from him. He looks like a future Pro Bowler, maybe even as a rookie.
Kelvin Benjamin, Wide Receiver, Carolina Panthers
No one has ever disputed the natural talent that Benjamin possesses. He has great size, long arms, very good athleticism and great hands. However, scouts did feel that it could take Benjamin a while to adjust to the NFL game.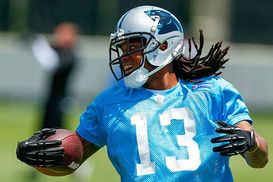 Benjamin has 16 grabs through three games with the Panthers.
Until recently, it generally took a couple of seasons for receivers to get acclimated to NFL play. Coverages are much tighter than they were in college and receivers have to make sight adjustments depending on the coverage. You often see young receivers look like they are playing at 75-80 percent speed because they just aren't comfortable.
That hasn't been the case with Benjamin. Carolina went into the season with a brand new group of wide receivers and Benjamin has been the leader of the group. Through three games, the Florida State product has 16 catches for 252 yards and two touchdowns. Benjamin uses his size very effectively and has been outstanding adjusting to the ball and making the difficult catches. He has also been outstanding after the catch. In short, Benjamin is quickly becoming Cam Newton's favorite target.
Zack Martin, Offensive Guard, Dallas Cowboys
When the Cowboys selected Martin with their first pick in the draft, it was expected that he would be a starter. What wasn't expected is that through the early part of the season, Martin would arguably be the best rookie offensive lineman.
There were three offensive linemen drafted ahead of Martin, and Zack has outplayed them all. Martin was a four-year starter at Notre Dame at left tackle, but the Cowboys are playing him at right guard. He has easily made the adjustment and it's no coincidence that the Dallas running game is the best it's been in years.
Seantrel Henderson, Offensive Tackle, Buffalo Bills
Seventh-round offensive linemen aren't supposed to start as rookies, but that's exactly what Henderson has done since the third preseason game. When you look at Henderson's history, this was totally unexpected.
Coming out of high school, Henderson was rated as one of the top offensive linemen in the country. However, when he got to Miami, he didn't play that way. The scouting report on Henderson was that he was an overweight, out of shape underachiever. He also had substance abuse problems, as he failed a number of drug tests while in college.
Buffalo selected Henderson in the hope that he could play up to his talent level. The surprise has been not only that, but he also easily beat out second-round pick Cyrus Kouandjio from Alabama.
Henderson hasn't looked like a rookie, showing strength both as a run blocker and a pass blocker. Right now, this is looking like the best value pick in the 2014 draft.
Ryan Shazier, Linebacker, Pittsburgh Steelers
It's always been tough for defensive rookies to step in and play right away for the Steelers. Their philosophy on defense has always been to work a rookie in gradually so that he isn't put in position to make a mistake that can hurt the team. That hasn't been the case with Shazier, as he has been a starter since opening day.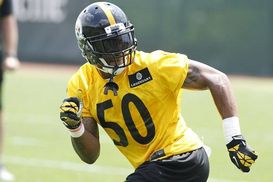 Shazier is on his way to becoming the leader of the Pittsburgh defense.
The Steelers have also felt that the complexities of their coverage schemes slow a rookie down. That hasn't been the case with Shazier, as he has played well in coverage since opening day.
Watching preseason games, I felt coverage was a strong part of Shazier's game and that he was having some trouble shedding blocks in the run game. Since the start of the regular season, Ryan has become a better run stoppers and has been more physical taking on blocks. At the same time, he has also played very well in coverage.
Through three games, Shazier is third on the team in tackles with 20. On the negative side, Shazier injured his knee last week against Carolina and may miss some time. Still, his play shows that it won't be long before he becomes the leader of a traditionally strong defense.
Follow Greg on Twitter: @greggabe