August 05, 2010 -
Greg Gabriel
Camping out with Green Bay and Chicago
I spent Monday and Tuesday with fellow NFP writer Matt Bowen visiting the training camps of the Green Bay Packers and Chicago Bears.
Granted, one practice can't tell you a whole lot, but I was still impressed with some of the rookies on both clubs.
Green Bay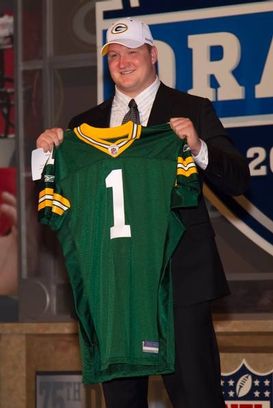 ICONBryan Bulaga did not look out of place when working with first-teamers at Packers camp.
Green Bay's first-round pick, tackle Bryan Bulaga from Iowa, took reps with both the first and second team. When working with the first team, Bulaga did not look out of place. He is strong and athletic and shows very good balance. In pass rush drills, he showed a strong punch and good mirror skills. Green Bay has been very happy with his work ethic and professional attitude.
In the second round they took defensive tackle Mike Neal from Purdue. Neal is a big strong kid. He may be in the best physical shape of any Green Bay defensive lineman. Technique wise he is still a bit raw, he has to learn how to use his hands better, but because of his strength and athleticism he will get play time as a rookie.
One player I wanted to see was sixth-round running back James Starks, but I was unable to get a look because he had a slight hamstring pull. It can be very tough for any rookie to make a club when he misses time the first two weeks of practice. Starks will have a lot of catching up to do when he gets back on the field.
Chicago
The Bears did not have a first or second-round pick. Their third-round pick, safety Major Wright from Florida, did not practice Tuesday because of a groin strain, but the coaches told me they were very happy with his progress. Like Burnett in Green Bay, Wright has received a lot of reps with the first team.
Defensive end Corey Wooton had a good practice. Wooton is a tall, long-limbed athlete with some speed and quickness. He gets off the ball quickly and has fairly good use of his hands for a young player. The Bears like to rotate their defensive linemen and by midseason Wooton should be getting play time.
Two other rookies who stood out to me were corner Josh Moore and tackle J'Marcus Webb. Webb has great size and long arms. He showed a strong punch and anchors well. Though he is very tall, he came off the ball low and hard in the run game. Moore showed good man-to-man cover skills and ball reactions in the team period. He closes very quickly.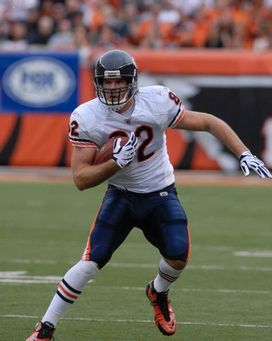 ICONIt will be interesting to see how Mike Martz utilizes Greg Olsen this fall.
The other player that jumped out at me in Chicago was tight end Greg Olsen. Tight end might not be the right word when describing Olsen. He never lined up as a conventional tight end. He was split out, in the slot and used in the backfield. He is obviously a prime target for QB Jay Cutler. When Mike Martz was in St. Louis and Detroit he never had a tight end with Olsen's ability. It will be very interesting to see how Martz utilizes Olsen this fall.
Brett Favre
The ongoing soap opera that is Brett Favre simply amazes me. There have been few, if any, as good as Favre in the history of the game. He is a genetic freak and to do what he has done the last few years at his age is remarkable. While saying that, the whole saga of "I'm retiring — no, I'm playing" is getting old. From the outside it looks as if everything is about Brett Favre and not the team. I'm sorry, but the last time I looked football is a team game. If this year's chapter of the saga is about Favre trying to create a way to get more money, then this will be a sad last chapter to an otherwise great career. He will end up being just another selfish player.
Ready for fantasy football? Click here to purchase the 2010 Total Access Pass/Draft Guide from the NFP.