September 30, 2011 -
Greg Gabriel
Can the Lions and Bills move to 4-0?
Many coaches, instead of looking at the season as one 16-game slate, divide the season into four quarters. This can be helpful if a club starts out slow because the coach can try and rally the troops so to speak to get ready for the next quarter. Ideally, if you can go 3-1 in each quarter, you finish at 12-4 and are in the playoffs. A club can start out 2-2 and if they go 4-0 in the next quarter they are back on track. With this being the last weekend of the first quarter, there are already some teams in trouble and they have to win this week to keep everything in control. With the quarter system in mind, let's take a look at some games for this weekend.
Carolina at Chicago
The Bears looked very good in their opener versus Atlanta but since have struggled in games against New Orleans and Green Bay. In the opener against Atlanta, the Bears offense moved the ball well and scored 30 points. In the last two weeks the offense combined for a total of 30 points. What has been evident to me is the Bears opponents are disregarding the shifts and motions that Mike Martz uses and just attacking. Opponent's defenses are routinely rushing 5 and 6 players and just saying block me. To counter this, the Bears need to get their run game going and stop beating themselves with dropped passes and costly penalties. In the second half of the Green Bay game there were 4 dropped passes, all of which would have been big yardage type plays. If they hit those plays the game's outcome may have been different.
Sunday against Carolina the Bears not only have to win, they have to win convincingly. In Chicago more so than many places it's "what have you done for me lately."
Washington at St. Louis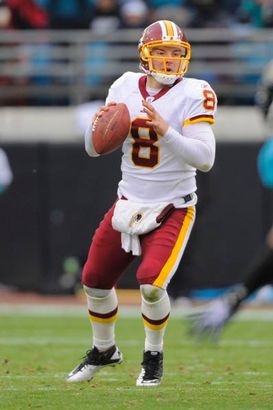 ICONRex Grossman has been steady under center in D.C.
After the loss to the Cowboys Monday night, the feeling in the Redskins locker room has to be "we let that one get away." Washington was in control and it slipped out of its hands. This week at St. Louis, Washington is playing a team that has to be disappointed by it 0-3 start. I thought that St. Louis was easily the favorite to win NFC West, but along with Kansas City they have to be one of the big disappointments in the league this year. Sam Bradford had a very strong first 12 games last year and then seemed to level off. It was expected that he would take a step this year and lead the Rams to a big season, but so far it hasn't happened. The injury to Steven Jackson hasn't helped, and the offensive line play has been average at best. Right tackle Jason Smith was benched in the 4th quarter last week and it remains to be seen if he will get the start this week. The defense, which was supposed to be a strong point of this year's team, has been disappointing,
The Redskins on the other hand are playing steady football. Rex Grossman is playing winning football and hitting some big plays. He seems to have regained his confidence. Defensive coordinator Jim Haslett is one of the better DC's in the league and his defense consistently puts pressure on the quarterback. With Brian Orakpo, who has been slowed by injury, and rookie Ryan Kerrigan, they have two formidable pass rushers on the outside. If the Redskins can strike early, they can take the home field crowd out of the game. I look for Washington to end the first quarter of the season 3-1.
Detroit at Dallas
I look for this game to be one of the better games of the weekend. Dallas is tough at home, Tony Romo is playing excellent football and the defense is extremely physical. Playing hurt on Monday night, Romo showed what he is made of and led Dallas to a come-from-behind victory. DeMarcus Ware is not a Lawrence Taylor clone but can still dominate a game in much the same way Taylor did. Right now he is one of the most feared pass rushers in the league. On offense the Cowboys will miss Miles Austin. He is the go-to receiver and with him being hurt, Dallas really only has Dez Bryant. Kevin Ogeltree has yet to show he can be a consistent pro. The Cowboys have to hope the running game with Felix Jones comes up big. That will take the pressure off the passing game.
That could be a tall order as the Lions defense is led by Ndamukong Suh, who right now may be the most dominant inside player in the league. On offense, the passing game is as good as any team right now. Matt Stafford is completing about 67 percent of his passes and has a 110 quarterback rating. Calvin Johnson, with his size and athleticism, is very difficult to contain. The only thing the offense lacks is a consistent running game. Jahvid Best is not an every-down back. He is more effective if he is used in a rotation. What hurt the Lions was losing rookie Mikel Leshoure; they haven't found anyone to take his place and do the tough pounding inside.
The Lions won a tough game in Minnesota last week and if they can come back and win another difficult road game in Dallas the momentum may carry them to the NFC North title. Once a team gains a lot of confidence they can be very difficult to beat.
Buffalo at Cincinnati
Last week I wrote that Buffalo was one of the surprise teams of the early season. The surprise has continued with their come-from-behind win against New England. Buffalo hadn't beaten the Patriots in 15 games and to end that streak by coming back from a 21-0 deficit has to build the Bills' confidence. Two weeks in a row the Bills have been behind by three scores and have rallied to win. Quarterback Ryan Fitzpatrick is playing at a Pro Bowl level and their "no name" receiving corps led by Stevie Johnson consistently comes up with one big play after another. What Buffalo needs is for its defense to play in the first half of games like they have in the second. If that happens they will be a tough team to deal with going forward.
The Bengals started the season strong with a win at Cleveland but since just haven't been able to get it done. Playing with a rookie quarterback doesn't make things any easier but it will pay off for the Bengals in the long run. There is not a doubt in my mind that Andy Dalton will be a winning NFL quarterback. I felt at draft time and I still feel that 2 to 3 years from now Dalton will be a better player than some of the QB's drafted before him. The experience he is gaining now will make he and the Bengals a better team next year.