July 16, 2010 -
Greg Gabriel
Can Unga make the Bears roster?
There were two surprising things about Thursday's supplemental draft. The first is that the Bears drafted BYU running back Harvey Unga, and the second is that they were able to draft him in the seventh round.
Unga is a very talented back — much more talented than your average seventh-round pick. He rushed for 3,455 yards in his career with a 4.96 yards per carry average to go along with 36 TDs. He also had 102 career receptions and another nine scores.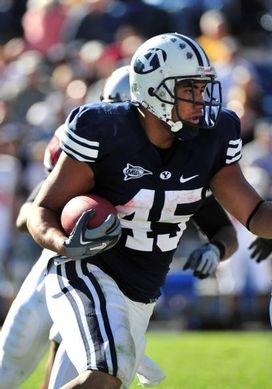 ICONRB Harvey Unga was selected by the Bears in the supplemental draft on Thursday.
This is a strong inside runner who can break tackles. Though he doesn't have great speed, he can still break some long runs. I thought a team would put in a bid for him in the fourth or fifth round.
The Bears have a strong running back group led by Matt Forte and free agent signee Chester Taylor. Both had strong offseasons learning Mike Martz's new offense. Behind those two are scatback Garrett Wolfe, who is an excellent special teams player, second-year man Kahlil Bell, who finished 2009 very strong, and rookie Brandon Minor. At fullback, the team has two young players who really received no playing time last year. Will Ta'ufo'uo was a practice squad guy and Eddie Williams was a draft choice of the Redskins, but he was no longer a fit with Washington with the coaching change and a new offense.
When I was with the Bears, we wanted to draft Williams but there were concerns about an injury he had late in his senior season, so we passed. When he became available this spring we jumped on it.
Unga has a tough road in his attempt to crack that group. By only giving up a seventh-round pick, the Bears won't have a lot invested. The one thing Unga is going to have to do is show he can play special teams. If he can't do that then he has no chance. He is also going to have to be able to play both running back and fullback. He has the size and has shown some pass blocking skills but has never really been asked to run block much. It will be interesting to see how his run blocking progresses during training camp.
Why did the Bears put in a bid? I think they liked his talent and upside. I also think that they thought he would be drafted earlier. They bid the seventh just in case he slipped through — which he did.
There was one other player drafted in the supplemental draft. Dallas also used a seventh-round pick on Illinois defensive tackle Josh Price-Brent. Price-Brent is a fit for what Dallas does defensively. He is a short, wide-body type who has good initial quickness and is a strong run stopper. He will have to be a nose tackle in Dallas' front. He can get a push as a pass rusher but is not the type who is going to put consistent pressure on the QB. He has talent, but I hear that you have to question his mental toughness. The grind of the game may be more than he can handle. While saying that, he was still worth a seventh-round gamble.
Ready for fantasy football? Click here to purchase the 2010 Total Access Pass/Draft Guide from the NFP.