August 16, 2011 -
Barry Dorey
Carolina's QB competition heats up
In the preseason, fans are always interested in the rookies and some of the younger players who look like they may become starters once the season gets under way. With that in mind, I was able to view the Bills-Bears game and the Panthers-Giants game from this past weekend. All four teams have a number of young players who could become full-time players this season.
Panthers vs. Giants
Having known new Panthers head coach Ron Rivera a number of years, I was interested in seeing how Carolina would look especially since the team had no offseason to install its offense and defense. Playing a veteran Giants team I thought Carolina would be in over its head but the team played typical Ron Rivera football. They were very aggressive and showed hustle from beginning to end and clearly outplayed the Giants. Still, Carolina has a long ways to go and who will be the starting quarterback when the season starts is still up in the air.
Jimmy Clausen
Clausen started poorly, throwing an interception on his second throw that was returned for a touchdown. Last year that bad throw would have affected him the rest of the game, but he showed poise and came back to lead the Panthers to a 46-yard TD drive culminated by an 18-yard TD pass to tight end Greg Olsen. Clausen showed patience in this game and though his accuracy wasn't consistent he was making good reads. While he may not win the starting job, he will not go down without a fight. He is a competitive kid!
Cam Newton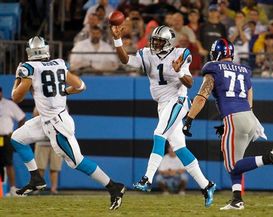 How much improvement will Panthers rookie Cam Newton make from game to game?
Newton did some nice things in his first NFL action. He led the team to two field goal drives, but his throwing was inconsistent. He played from both under center and in the shotgun and showed the ability to set quickly when under center. He was patient and usually did a good job finding the open man but there were a few plays when he stared down his receivers. When this happened, the DB's got a jump on the ball. His accuracy was inconsistent, missing some open receivers but also making some nice throws showing excellent arm strength. The thing he does well is throw on the run. The key to Newton will be showing improvement from game to game.
Armanti Edwards
Last year during the preseason, Edwards looked like a player who was making the transition from quarterback to receiver. He was unsure of himself, dropped passes and did not play fast. In this game he looked like a different player with much more confidence. He had two excellent punt returns showing his instinctive running skills and also made a nice catch on a seam route. The night wasn't perfect, though, as he dropped a slant pass in traffic on a play that would have been a first down. His route running was much improved over last year and he looks like a player that might be able to give Carolina some big plays. In saying that, he can't afford to drop any more passes.
Jason Pierre-Paul
Pierre-Paul picked up right where he left off last year. The Giants first-round pick a year ago had a dominating first half with 2 sacks and four total tackles. He is a natural pass rusher who is very quick off the ball, has very good hand use and can use counter moves. He closes very quickly coming off blocks. I felt when he was at South Florida he had the makings to become a dominant pass rusher and he just may sooner rather than later.
Marvin Austin
Austin was the Giants second-round pick this year. He didn't get to play until the second half but played well. He is a very strong player who did an excellent job at holding the point of attack. He has quick hands and is able to shed blocks. He made one nice play to get off a double team block and make the tackle for no gain. He also showed good instincts and hustle in pursuit chasing the ball to the sideline. He has good pass-rush ability using both his power and moves. He should get a lot of playing time in the defensive line rotation.
Bills vs. Bears
Marcell Dareus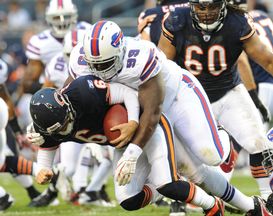 Marcell Dareus is ready to make an instant impact in Buffalo.
Dareus, who was the third pick in the draft, has already moved into a starting role and showed why early. He has excellent size and strength for a 3-4 defensive end, and though he wasn't known for his pass-rushing skills at Alabama, he showed that he can be a good pass rusher in this defense. He had a sack and a pressure before the first quarter was over and also played the run well. He is going to be a very good player for the Bills.
C.J. Spiller
Spiller was a bit of a disappointment last year for the Bills. When you take a player as high as the Bills took him you expect him to do big things, but he rushed for only 283 yards last year and no touchdowns. As a runner he didn't look much different Saturday night, running two times for 3 yards. He did have a couple of nice catches and seems best when lined up in the slot where he has space. This will be a very important year for Spiller as he has to become a bigger part of the offense.
Brad Smith
Smith isn't a young player, but he was a free agent signing for Buffalo soon after the lockout ended. He will line up at receiver and as the quarterback in the "Wildcat" formation. He gives the Bills a dimension they haven't had when playing quarterback with his run and throwing skills. He showed his running skills in this game with 3 carries for 16 yards. Each week, the Bills opponents are going to have to prepare for him because he can make big plays.
Lance Louis
Louis has the physical tools to be a very good guard in the league. He has size, strength and rare athletic ability for such a big guy (6-3 and 320). His problem has been he doesn't play in games the way he practices and this was the case again this week. He got beat a couple of times in pass protection giving up a sack and a pressure. His problem has been sustaining his pass blocks. He has to do a better job holding his position on his opponent. If he doesn't show improvement this week, the Bears may want to move Roberto Garza back to right guard and play newly signed Chris Spencer at center.
Gabe Carimi
A few days into camp, Carimi was given the starting right tackle job. He played as if he belongs there. Carimi has size, power and athletic ability. He showed good run block skills and didn't look like a rookie playing his first professional game when pass blocking. He has a strong punch, moves his feet well to mirror and can anchor. If he stays healthy he will be a fixture at tackle for years to come.