August 19, 2014 -
Greg Gabriel
CFB prospect preview: Jameis Winston
It remains to be seen if Florida State redshirt sophomore quarterback Jameis Winston will enter the NFL draft next spring, but all indications are that the Heisman Trophy winner is headed for the next level.
A $10 million insurance policy has been purchased to protect Winston in the event of a catastrophic injury and loss of draft status. Usually when that happens, the player is off to the NFL the following season. The cost of the policy was reported to be in the $60,000 range and the Winston family was given help paying the bill by the Florida State Student Assistant Fund. This is totally legal and does not adversely affect eligibility according to the NCAA.
When viewing tape of Winston, one thing is clear: He is a very talented player. The first thing that jumps out at me was what Winston was allowed to do in the FSU offense.
During the 2012 season when E.J. Manuel was the FSU quarterback, the offense was a strict half field offense. Manuel was efficient running that system and ended up being the first quarterback selected during the 2013 NFL draft. Manuel was a fifth-year senior and two-year starter. I watched eight games on Manuel and I never once saw him look to the opposite side of the field. He usually had two or three reads all to the play side of the field.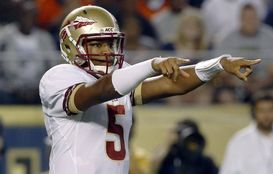 Winston led the Seminoles to a perfect record and national championship last season.
This was not the case in 2013 with Winston at quarterback. Last season, Florida State ran a full field offense for the entire season with Winston making reads to both sides of the field. Having a redshirt freshman run a more complex offense than a veteran did the year before tells you something about Winston's instincts and his ability to learn and run an offense.
Winston has great size, being listed at 6040 – 230. He has a thick frame to go along with excellent strength and athleticism. He has very good feet, change of direction and speed for a big guy. I would estimate his speed at being in the low 4.6 range.
In the Seminoles offense, Winston plays from both under center and in a spread. When under center, he can set up quickly and stay in balance. From both under center and in the spread, Winston demonstrates a good ability to read the defense and make sound decisions. His stats offer further proof of this high level of decision making. For the season, Winston completed 257 of 384 passes for 4,057 yards, 40 touchdowns and ten interceptions. He also ran for 219 yards.
Winston has excellent arm strength and throws a tight, catchable ball. There simply is not a throw he cannot make. While he has a little hitch in his delivery, the Heisman Trophy winner still gets the ball out of his hand quickly and with accuracy. Winston consistently shows good ball placement and his deep accuracy is excellent.
Winston is patient in the pocket and has a good feel for pass rushers. He has the size and strength to ward off tacklers and when he decides to run, he functions like another running back. Winston can throw equally well when on the run, rolling to his left or right. He also shows he can zip it into his receiver or throw with touch.
To put it simply, when you notice that Winston has three more years of college eligibility, it's scary to think how good he can become. Granted, he is surrounded by as good a supporting cast as there is in college football, but he still executes each play very well.
The NFL player I would compare Winston to is Carolina signal-caller Cam Newton. While Winston's throwing motion is a little tighter, they have similar arm strength. Winston plays in a more complex offense than Newton played in at Auburn and is allowed to do more.
The main concern with Winston is not football-related, it's his character. Going into his third year of college, he has already been involved in two off-field incidents that have reflected on his character. When he decides to turn pro, each NFL club will perform in-depth character research before deciding whether or not to draft him. From a pure talent viewpoint, Winston is the best quarterback available next year if he decides to come out. He very well could be the first pick in the draft.
If Winston does enter the draft, we will update this report based on how he plays during the 2014 season.
Follow Greg on Twitter: @greggabe