August 09, 2014 -
Greg Gabriel
CFB prospect preview: Marcus Mariota
Three quarterbacks we will all be hearing a lot about during the coming college football season are Oregon's Marcus Mariota, UCLA's Brett Hundley and Florida State's Jameis Winston. Both Mariota and Hundley flirted with entering the 2014 NFL draft, but decided to stay in school. One of the reasons they returned for another college season is that the NFL underclassmen advisory committee wasn't in agreement with the media's analysis that both would be high first-round selections. In fact, neither player received a first-round grade.
Winston was not eligible to enter May's draft, but he can come out next spring because he will then be three years removed from high school. Because Winston was not eligible for the 2014 draft, I had never taken the time to break down his tape until recently. Over the next couple of weeks I will report on how I feel about these three players going into the 2014 college season. Remember, these are my impressions based off of 2013 tape. When we see game tape from 2014, things will no doubt change. First up is Marcus Mariota.
Marcus Mariota – Oregon
The 2014 season will be Mariota's third year as a starter at Oregon. After redshirting in 2011, Mariota has been under center ever since. His stats for 2013 featured 245 completions in 386 attempts for 3,665 passing yards, a 63.5 percent completion percentage, 31 touchdowns and only four interceptions. On paper, those are excellent numbers. However, when you watch the tape, it's a different story.
Marcus has excellent size at about 6'4 – 215 and should run about 4.50. He is an excellent athlete with rare speed, quickness and body control for a quarterback. While he may not have the type of speed RG3 had coming out of Baylor, Mariota may be a better all-around athlete.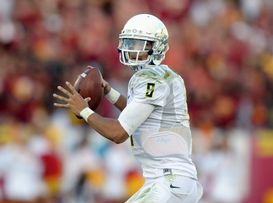 US PRESSWIREMariota is an excellent runner, but needs to work on his accuracy, especially with the long ball.
Mariota always plays from a fast paced spread offense and was surrounded by a cast of very impressive athletes at the skill positions in 2013. Oregon runs a read option offense and Mariota is a perfect fit for that scheme. As a runner he is second to none. Mariota has great speed and change of direction, shows excellent run instincts and is both elusive and strong as a runner. He is a threat to take it the distance every time he touches the ball in that offense.
But Mariota needs improvement in the passing game. While his stats are excellent, you see his flaws when you study the game tape. He has a compact overhand delivery but often looks like he is pushing or aiming the ball. He has good arm strength and generally throws a tight ball.
What is concerning is that in this offense, Mariota's receivers are always wide open. In all the game tape I looked at Mariota only had to make one throw into a tight space. A good majority of his passes are shorter throws (short outs, bubble screens, screens, swing passes, short crossing routes and comebacks). While his completion percentage is very good, his ball placement doesn't match. On many throws, even though his receiver is wide open, Mariota's receivers have to make adjustments to haul in the pass. A quarterback can get away with that in college, but not in the NFL. Off-target throws in the NFL get intercepted and returned for touchdowns.
On deep throws, Mariota's accuracy and ball placement is average at best. He is often off-target by a wide margin on many of these types of throws. Because of that, Oregon does not throw deep on a consistent basis. When they do, more often than not, the receiver is wide open and still has to adjust.
The good news when it comes to Mariota is that he seldom forces throws. He is a good decision maker and doesn't turn the ball over. He has patience in the pocket and does a fairly good job seeing the field and finding an open receiver.
Overall, I really like Mariota's talent, he just needs more development. Could he be much better in 2014? Of course, and if he improves on his accuracy and ball placement, he will be a legitimate prospect to go high in the first round. Until we see how he plays in 2014, let's not anoint him, but it will certainly be fun to watch.
Follow Greg on Twitter: @greggabe