August 20, 2014 -
Greg Gabriel
CFB prospect report: Brett Hundley
Late last fall I wrote here at the National Football Post that UCLA signal-caller Brett Hundley should stay in school for another year because he wasn't ready to become an NFL quarterback. After receiving an evaluation from the NFL underclassmen advisory committee, Hundley made the decision to go back to school for at least one more season.
Hundley is a fourth-year junior, having redshirted his first season in Los Angeles, but still has two years of college eligibility left. There are many around the NFL who believe this will be Hundley's last year of college football.
There's much to get excited about regarding Hundley, who has great size (listed at 6030 – 227), great speed and is extremely athletic. I would estimate his speed to be in the high 4.5 range and his body control and change of direction are as good as any in the NCAA.
Hundley has good throwing mechanics, a quick release and a very strong arm. He throws a tight spiral and, for the most part, a very catchable ball. His stats for the 2013 season were outstanding. Hundley completed 248 of 369 passes for 3,071 yards, 24 touchdowns and only nine interceptions, with a completion percentage of 67.2 percent. He also ran for over 700 yards, averaging 4.7 yards per carry.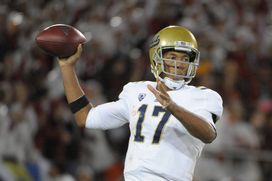 US PRESSWIREHundley is looking to lead the Bruins to the CFB playoffs this season.
The problem was that in some games (Nebraska, Nevada) Hundley looked great, while in others he was just average (Utah) or poor (Oregon, Stanford). When evaluating quarterbacks, you obviously want to see quality performances. But in reality, watching the poor games tells you more.
In the Oregon and Stanford contests, Hundley was not poised, had problems with pressure, made some questionable decisions and his accuracy and ball placement were off. In college, a quarterback can get away with average ball placement. In the NFL, those throws are often times intercepted.
During his best performances, Hundley made good decisions, got the ball out of his hand quickly and was accurate. What makes him so dangerous is his running ability. Hundley has top run instincts to go along with speed and power. In my opinion, he is second to Oregon's Marcus Mariota as a running quarterback in college football. He doesn't have Mariota's speed, but he does have more power.
I expect Hundley to have a big year in 2014. While he lost leading receiver Shaq Evans to the NFL, he still has guys like Devin Fuller, Jordan Payton and Devin Lucien. What Hundley needs to improve upon is game after game consistency. If he can take that next step, then he has a chance to be a premium-type draft choice. If Hundley does enter the 2014 draft, we will update this report in January.
Follow Greg on Twitter: @greggabe