August 21, 2014 -
Greg Gabriel
CFB prospect report: Bryce Petty
This will be our final report profiling the top quarterbacks entering the 2014 college football season. The signal-callers we have reviewed so far (Oregon's Marcus Mariota, Florida State's Jameis Winston and UCLA's Brett Hundley) are all underclassmen who may enter next year's draft. Today, we will talk about the only senior in this elite tier, Bryce Petty from Baylor.
Petty is a fifth-year senior and 2014 will be his second season as a starter. He redshirted in 2010 and played as a backup in both 2011 and 2012. Petty started every game in 2013 and put up excellent numbers in the pass-happy, no-defense Big 12. For the season he completed 250 of 403 passes for 4,200 yards, 32 touchdowns and three interceptions. His completion percentage was 62 percent and he also ran for 209 yards.
Baylor runs a half field read option offense. Much of Petty's production is to the first or second option on shorter passes (bubble screens, slants, hitches). When the Bears throw deep, it's usually on go routes. What helps Petty is that he is surrounded by perhaps the fastest group of receivers in the nation. Four of the top five leading receivers from last year return in 2014. That fact alone should help Petty improve his numbers this season.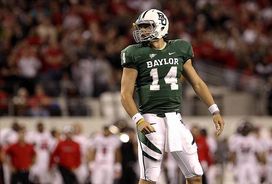 Petty has a lot of potential, but also has plenty of work to do if he wants to be a first-round pick next spring.
Petty has good size—is listed at 6030 – 225—and is a good athlete with quick feet and good run skills. While he is not in the class of Marcus Mariota or Brett Hundley as a rusher, Petty can run with the football. Although not a speedster, I would estimate Petty at being in the high 4.6-4.70 range. He is light on his feet in the pocket and has fairly good maneuverability, but doesn't have a great feel for pass rushers. In the games I viewed, Petty took a lot of hits and sacks.
As a passer, Petty has a smooth overhand and quick delivery. He most often looks to his first and second options and gets the ball out of his hand quickly. There are many throws that go to his first option and I don't remember seeing any passes to a third option. In the Baylor offense, all options are to one side of the field and I have failed to witness Petty look off one receiver and go to another on the opposite side of the field.
While I am sure he is smart enough to pick up an NFL offense, Petty will need to adjust his game to be able to read a full field. NFL teams do not run half field read offenses. This will take some time.
Petty has good but not great accuracy. He is usually right on with the shorter throws, but he needs to improve his ball placement. He will not have the big windows in the NFL that he has in college. Petty's deep accuracy is inconsistent, but he has no problem hitting a wide open receiver deep. However, Petty is inconsistent with his deep accuracy on tightly covered receivers. He has good arm strength to make the deep throws and throws a fairly tight ball.
After evaluating tape, Petty has to be classified as a system quarterback. In saying that, he does an excellent job in running the Baylor offense and most important, he doesn't throw interceptions. He makes good decisions and doesn't force his throws.
Overall, I look for improvement in Petty's play in 2014. With this being his second year as a starter and having most of his receiving unit back, he should play with an abundance of confidence. While I wouldn't use a premium pick on Petty based off of 2013 tape, that could change with a strong 2014.
Follow Greg on Twitter: @greggabe