August 20, 2010 -
Greg Gabriel
Colts-Bills postgame thoughts
The Colts took on the Bills last night in Toronto. Each team was playing its second preseason game and both were coming off losses the opening weekend. Being that the game was played in Canada, it started out like a Canadian League game. It was 21–14 Buffalo at the end of the first quarter.
There were big plays, a lot of offense and inconsistent defense. Except for Terrence McGee returning a Peyton Manning pass 78 yards for a TD, there wasn't a whole lot of 'D' in the opening quarter. Because of the Colts' spread offense, Buffalo did not play much of its base 3-4 defense. Instead, the Bills went mainly with their nickel package of four defensive linemen and five defensive backs.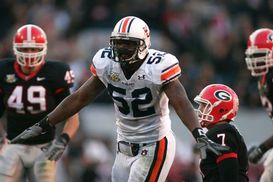 ICONRookie Antonio Coleman has a way of getting to the QB.
Much of the time Buffalo's defensive ends in this package were outside linebackers playing down. Guys like Aaron Maybin, Reggie Torbor, Chris Ellis and rookie Antonio Coleman. Coleman is an interesting guy. He was an undersized DE at Auburn but a very productive pass rusher. He lacks good measurables but has a way of getting to the QB. Based on the playing time he got early in this game, he is a fairly good bet to make the final roster.
Last week, Buffalo played Washington without three offensive line starters. All three were back last night. The returning starters are left tackle Demetrius Bell, right guard Eric Wood and right tackle Cornell Green. Wood, who was Buffalo's second first-round pick in 2009, had a horrific leg injury late in the '09 season. There were some who wondered if he would ever play again. He looked good last night. As far as movement, he ran well and his change of direction was good. His return will help because before he got hurt he was arguably the Bills best lineman in '09.
The Buffalo offense as a whole looked much sharper than a week ago. They ran and passed the ball well. First-round pick C. J. Spiller started and had 54 yards on 10 carries with a 31-yard touchdown. And he only played a quarter! As productive as he was, there were a couple of runs where he lost yardage because he danced too much instead of taking what was there. He will correct that with experience.
Another rookie running back, Joique Bell from Wayne State (Michigan), had a big game. Playing just the fourth quarter, he ran 11 times for 80 yards and a TD. He was an undrafted free agent but will make the final roster. This is the second week in a row he has come up big. Quarterback Trent Edwards also looked much better than a week ago. He completed 5 of 8 for 93 yards and a touchdown. He was much more poised in his play.
For the second consecutive week, Indianapolis looked flat. They just haven't started to click on either offense or defense. In all fairness, the Colts were playing the game with only three days' rest. They played the 49ers Sunday night.
Peyton Manning looked sharp in the opener against San Francisco but was off against Buffalo. He completed only 8 of 15, had an interception returned for a TD and another near interception dropped.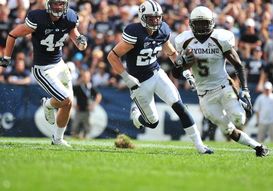 ICONCan Devin Moore be the returner the Colts were seeking?
The Colts may have found a returner in this game, however — first-year player Devin Moore out of Wyoming. He had kickoff returns of 33 and 38 yards and a punt return of 49 yards. He is quick and elusive with a great burst.
On defense, rookie linebacker Pat Angerer from Iowa played well. He has excellent instincts and is a solid tackler. He had six tackles last night. That followed an eight-tackle, two-sack performance in the first preseason game.
The player I was a little disappointed in was first-round pick defensive end Jerry Hughes. I thought he was a great pick for the Colts. With his speed and pass rush skills he was a perfect fit for the Colts defensive scheme. In two games, though, he has only two tackles despite receiving extended playing time. There is, however, still a lot of time for Hughes to get it in gear.
Click here to purchase the Total Access Pass / Fantasy Draft Guide from the NFP and receive a free Deuce Brand watch while supplies last.